From August 26 to 27, 2018, the University of Arizona (UA) delegation visited Ocean University of China (OUC) and attended the orientation activities of the class of 2018 under the joint law program between UA and OUC. The two sides engaged in a discussion about deepening comprehensive cooperation in teaching and research.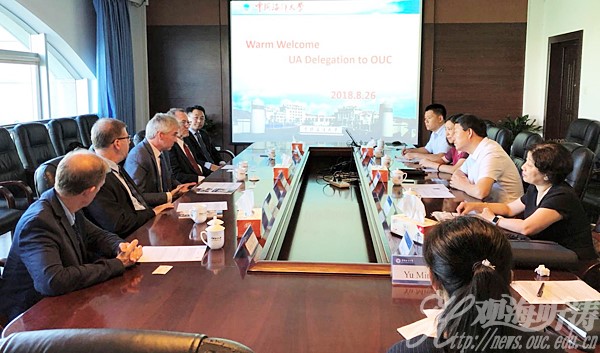 On August 26, OUC's Vice President Li Huajun met with the UA delegation led by Prof. Brent White, Vice Provost for Global Affairs, Vice President Prof. Joel Huaff and Prof. Marc Miller, Dean of the Law School. They had a discussion on improving the joint law program and expanding areas of cooperation.
The delegation members, Dean Liu Huirong of OUC's School of Law and Political Science along with other relevant staff in charge attended the parents' meeting of the joint law program. In the meeting, Prof. White extended a warm welcome to the freshmen and gave an overview of UA. Prof. Miller explained the program's teaching management, student management, employment as well as further education, and answered questions from the parents. Both Prof. Liu and Prof. White noted that great attention has been paid to this program which, over the last three years, has been continuously improved. The joint education model has a positive effect on the teaching systems of the two universities. It is hoped that the program could go further with the joint efforts of the universities and parents so as to bring more benefits to the students.
On August 27, a meeting with the freshmen and a lecture were held at the School of Law. Prof. Miller expressed his welcome to the students.
Original Article From: http://eweb.ouc.edu.cn/news/list.htm
Learn More and Apply: Ocean University of China