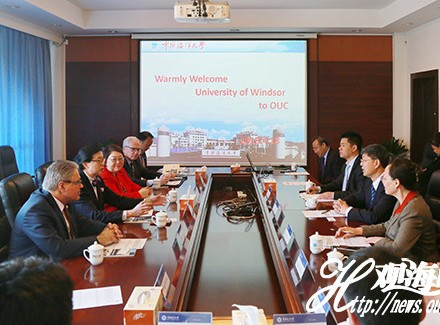 On April 18, a University of Windsor (Canada) delegation led by Vice President of Research Michael Siu and Vice President of International Affairs Diana Kao visited OUC. Vice President Li Weiran of OUC met with the guests in the conference room of Xingyuan Building and the two sides had a meeting to discuss potential cooperation.
Vice President Li extended a warm welcome to the delegation and remarked on OUC's history, disciplinary characteristics and development strategy. He explained that OUC is a comprehensive university with strengths in both oceanography and fisheries. The university focuses on featured disciplines while pursuing the comprehensive development of all disciplines, and it improves its overall strength through these featured disciplines while also enhancing its competitive edge through the comprehensive development of all its research disciplines. By further enhancing its strengths in marine sciences and fisheries, the university can boost its development of disciplines such as ocean engineering, marine drugs and marine materials, all of which are related to the emerging marine industries. Emphasis is also placed on the humanities and social sciences including the marine economy, ocean management, maritime law and marine culture.
OUC is one of the first higher learning institutions to be included in China's list of future world-class universities in 2017 and it therefore faces a new and historic opportunity in its development. As it implements its internationalization strategy, OUC places emphasis on establishing and expanding cooperation with overseas universities and research institutes. The University of Windsor is a world renowned university in Canada and is particularly strong in engineering and business. The two institutions have a wide range of cooperative opportunities including the joint supervision of students, collaborative research and student and faculty exchanges.
Vice President Michael Siu thanked OUC for the warm welcome. He explained that the University of Windsor, established in 1857, currently has over 16,000 students enrolled. The university boasts unique strengths in such disciplines as business, engineering, psychology, social sciences and education. It is also engaged in close cooperation with local businesses and continuously improves its research application ability. It values cooperation with Chinese universities and already has more than thirty partner institutions in China. He pointed out that OUC is a well-known university with unique strengths and that joint efforts could be made in facilitating faculty and student exchanges as well as in academic exchange, efforts that could begin with the institutions' engineering and business departments. Vice President Diana Kao briefly talked about the university's collaboration with other Chinese universities and also extended a welcome to OUC faculty and students to study at Windsor.
Prof. Song Wenhong, Director of the International Office, moderated the meeting. Prof. Yang Shutong from the College of Engineering, Prof. He Yiming from the College of Economics and Prof. Jiang Zhonghui from the College of Management each introduced their colleges. Relevant staff from the Graduate School, College of Engineering, College of Economics and College of Management were also in attendance.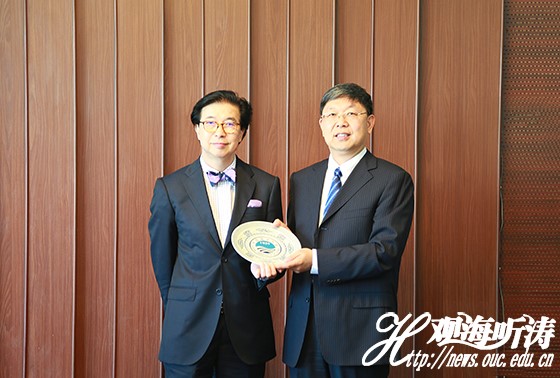 Vice President Li Weiran (right) presented a gift to Vice President Michael Siu
Group Photo
Original Article From: http://eweb.ouc.edu.cn/news/list.htm
Learn More and Apply: Ocean University of China