Form April 7 to 13, 2019, Vice President Li Huajun of Ocean University of China (OUC) and his delegation visited higher education and research institutions in New Zealand and Australia, to expand international cooperation in marine-related research and joint talent cultivation, which achieved desired results.
On April 8, the delegation visited the University of Waikato in New Zealand and was warmly received by Pro Vice-Chancellor Alister Jones. After extending his welcome, Prof. Jones stressed that the University of Waikato, excellent in both marine science and multidisciplinary fields such as management and law, had attached great importance to its exchanges with Chinese universities and adopted a new cooperative strategy. He expressed the hope that the two institutions could carry out substantive cooperation in marine-related research, joint postgraduate education and mutual visits among teachers and students.
Vice President Li gave an overview of OUC's efforts to develop itself into a world-class university and its academic strengths. He said that the agreement of cooperation signed by the two institutions had laid solid foundation for further substantive cooperation, which could be strengthened by three aspects. First, joint postgraduate education and mutual visits among teachers and students could be initiated in advantageous disciplines and majors. Second, joint research could focus on marine science and engineering, coastal zone management and Antarctic research. Third, possibilities of joint research could be explored through seminars in law, management and other social sciences, so as to deepen mutual understanding and enhance substantial cooperation.
Prof. Karin Bryan, Assistant Dean of the School of Science, and a member of Earth Sciences Research and Coastal Marine Group in Environmental Research Institute, gave an introduction to the education and research in marine and environmental sciences at the University of Waikato. In the laboratory for advanced material research, Senior Research Fellow Yang Fei gave an overview of the major equipment and research progress, especially the achievements in R&D and commercialization of titanium alloy.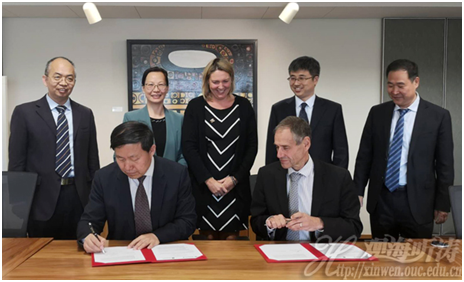 On April 9, the delegation visited GNS Science and met with senior scientist Paul A. White and four other scientists. Two of them gave an introduction to geothermal studies and water ecology, their respective areas of specialization, and explained how their team came up with creative solutions to real-life problems with geothermal resources and progress achieved through long-term observation of the coastal zone.
Vice President Li spoke highly of GNS Science's long-term, in-depth research of earthquake, geotherm and coastal zone, as well as its subsequent commercialization. He also appreciated the proposal of establishing the GNS-Qingdao Scientific Research Alliance. Prof. Song Wenhong, Director of the International Office, gave an introduction to the overall development and outstanding programs in international cooperation and exchanges. Prof. Liu Yong gave an overview of OUC's research in the fields of disaster prevention and mitigation along coastlines, and Prof. Chen Xue'en spoke of OUC's achievements in marine sciences and relevant research. The two sides had a fruitful discussion and agreed to launch seminars in the future. After the meeting, the delegation visited the laboratory and learned about New Zealand's geothermal power-generating facilities and their utilization on a field trip.
On April 10, the delegation went to Wellington, the capital of New Zealand, and visited Victoria University, accompanied by Dong Zhixue, Education Counselor of the Chinese Embassy in New Zealand. After expressing his welcome, Deputy Vice-Chancellor Blair McRac elaborated on the institution's academic development and international cooperation guided by the principle of "Capital thinking, globally minded".
Vice President Li Huajun pointed out that the cooperation should build on past research and focus on fields of common interests such as Antarctic research, regional economy, seafood industry, marine energy and engineering. Counselor Dong suggested that the two institutions could, centering on issues of common concern, conduct problem-driven cooperation featuring teacher-student interaction and joint research through the scholarship program for Ph.D candidates launched by China Scholarship Council. The two sides discussed how to make full use of "China Scholarship Council-Victoria University of Wellington Program", reached a consensus and planned to financially support more graduate students.
On April 11, the delegation visited the Education Office, Consulate-General of the People's Republic of China in Sydney, and attended a meeting. Lu Ping, Counselor for Scientific and Technological Affairs, put a particular emphasis on the establishment of China-Australia Joint Research Center to encourage joint research among higher education and research institutions in such prioritized areas as medicine, health, energy and information, as well as the activities organized for young scholars. Mr. Wang Song, former Deputy Director-General of Department of Cultural and Educational Experts at State Administration of Foreign Experts Affairs, and China's General Representative in Sydney, gave suggestions on bringing in international senior experts for short or long term and formulating preferential policy on brain gain. Associate Prof. Linda Tsung of Faculty of Arts and Social Science at the University of Sydney, shared her views on the plan to cultivate international talent of the Chinese language and to initiate student exchange program with OUC.
On April 12, when visiting the University of New South Wales (UNSW), the delegation was warmly received by Pro-Vice-Chancellor Laurie Pearcey. He reviewed the cooperation between the two institutions, both located in coastal cities, introduced UNSW's recent developments and its 2025 strategic initiative, and expressed his expectation for closer cooperation. He held that, as fruitful cooperation achievements had been made, joint program for doctoral degree and relevant research could be carried out as soon as possible.
Vice President Li congratulated UNSW on its success in becoming one of the world's top universities during the past 7 decades, and expressed his hopes for deeper cooperation in talent cultivation and scientific research based on the collaboration in the past decade and more. He said that it was important to combine doctoral student cultivation with research cooperation so as to advance disciplinary development. OUC and UNSW had immense potential for cooperation in marine science and technology, engineering, as well as economy, management and law. The existing platform could play a leading role and drive closer cooperation in related disciplines.
After the meeting, Prof. Greg Leslie of the School of Civil and Environmental Engineering at UNSW, Executive Director of GWI, gave an introduction to how GWI, home to more than 400 professionals, faculty members and doctoral candidates, managed to resolve the common challenges of water resources through global cooperation, and to the progress of the program. The meeting was also attended by Prof. Ge Linlin, Leader of UNSW Earth Sciences and Earth Observation System Group, and Prof. Wang Jun from the School of Mechanical and Manufacturing Engineering at UNSW. Prof. Chen Xue'en and Prof. Liu Yong gave an introduction to OUC's progress in marine sciences and research in engineering and relevant programs, respectively. The two sides engaged in in-depth discussions about joint research.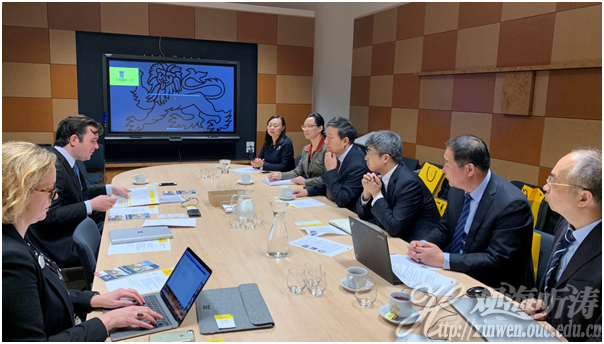 Original Article From: http://eweb.ouc.edu.cn/news/list.htm
Learn More and Apply: Ocean University of China