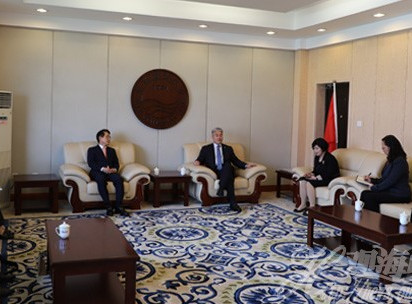 On May 2nd 2018 President Yu Zhigang met with Jin-Ung Park, the new South Korean Consul General in Qingdao in the reception room of the Xingyuan Building.
President Yu Zhigang extended a warm welcome to the Consul General. He introduced OUC's 90-year history and gave an overview of the university including its disciplinary strengths and development, recalling the university's educational exchanges with South Korea. He pointed out that OUC had established cooperative relations with dozens of universities in the country, including Seoul National University and Pukyong National University, which have achieved fruitful results in exchanges of students, faculty members, in marine-related scientific research cooperation and in cultural exchanges.
There is already a relatively high percentage of South Korean students among OUC's international students and with the current standing of OUC as a part of China's plan for developing world-class universities, President Yu pointed out that OUC will further increase the university's international cooperation. He also expressed his hope for future collaboration in cultural and educational exchanges. In addition, President Yu expressed his hope that Korean investment enterprises in Qingdao could provide more internships for students. The university also encouraged the communication and cooperation between teachers and enterprises, resulting in mutually beneficial cooperation.
Consul General Jin-Ung Park thanked the university for its warm welcome and pointed out that China and South Korea were close neighbors and had established diplomatic relations for 25 years. Exchanges and cooperation between the two sides have been increasing and he expressed the hope that exchanges between students could be further strengthened. He said that he would encourage the Korean investment enterprises to strengthen their R&D cooperation with Ocean University of China and, at the same time, he would provide favorable conditions for the promotion of educational and cultural exchanges between the two sides.
After Jin-Ung Park concluded his talk, Prof. Song Wenhong, director of OUC's International Office, introduced the progress of the Confucius Institutes that were co-established with Korean universities. Professor Li Haiying, head of the Korea Research Center, also attended the meeting.
After the introductory speeches the Consul General gave a lecture entitled Being Unborn to Finish - The Miracle of the Republic of Korea, attended by teachers and students of the Korean Department of the university.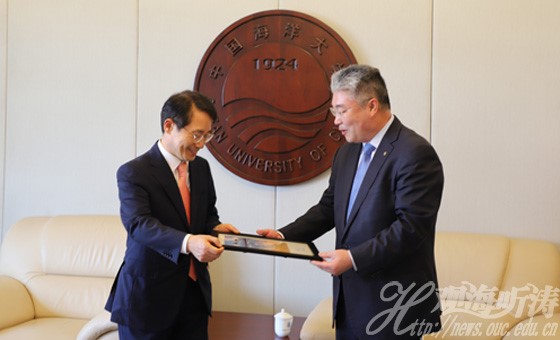 Original Article From: http://eweb.ouc.edu.cn/news/list.htm
Learn More and Apply: Ocean University of China