On the morning of April 17, the 2015 spring sports meeting was held in the sports field in the southern part of the SWUN Airport campus. Present at the opening ceremony were Zeng Ming, University President, Wang Yong, Vice President, Wang Yongzheng, Vice President, Li Gengnian, Assistant President as well as heads of relevant departments. Andreas Butz, Dean of the Computer Science School in Ludwig Maximilian University of Munich, Germany, was also invited to attend the opening ceremony.
At the beginning of the opening procession, walking to the brisk athletic march past the platform in sequence were the square teams defending the national flag, the SWUN flag and the red flag, the square team holding flowers, and the referee team of the School of Sport. After that, the square teams from different schools of SWUN marched into the sports field and performed cultural and artistic programs in front of the platform. Led by two adorable "yaks", the square team of the Institute of the Qinghai-Tibetan Plateau Research entered the sports field. The square team of foreign students brought a modern dance overwhelming with youthful vigor and gracefulness, which turned on the whole sports field immediately. The square team of the School of Computer Science and Technology (SCST) gave an ingenious performance scored by the computer keyboard sounds, exhibiting the characteristic of SCST. Singing and dancing, the square teams of the School of Tibetan Studies, the School of Yi Studies and the School of Preparatory Education wore the costumes of their own nationalities, much appreciated by the spectators for their unique cultural flavor. There were many other programs full of youthful dynamics, adding to the ceremony's vivid colors.
Afterward, Han Libing, on behalf of athletes, and Li Weihua, on behalf of referees, made solemn oaths that they would carry forward the spirit of "friendship first, competition second" and that they would abide by the rules of the match to judge the games fairly, justly and openly.
Following the opening ceremony, SWUN leaders joined the teaching faculty and students in running around the campus.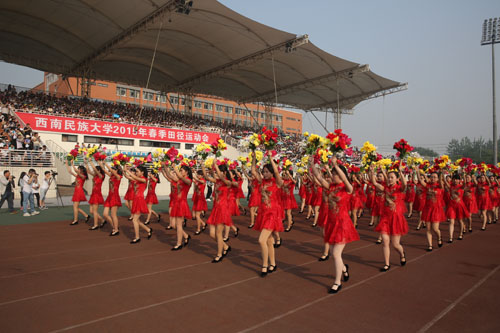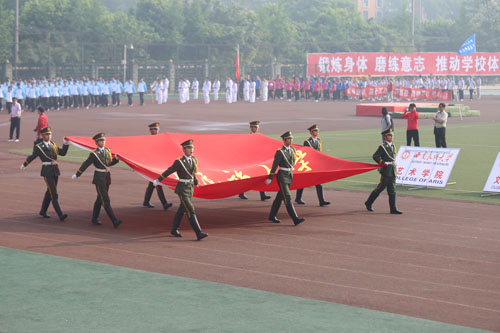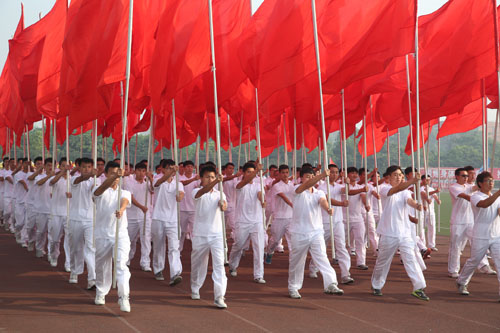 Original Article From: http://english.swun.edu.cn/News.htm
Learn More and Apply: Southwest University for Nationalities