Recently, the Ceremony for the Sino-German Campus of QUST (Germany) Unveiling and the MOU Signing for Establishing the Sino-German University of Technology was held in Munich, Germany. Gong Zheng, Governor of Shandong and Deputy Secretary of the Provincial Party Committee of Shandong attended the ceremony and delivered a speech. Also present at the ceremony were the members of delegation to Germany headed by Gong Zheng. They are Shen Changyou, secretary-general of Shandong Government; Xue Qingguo, director of Shandong Foreign Affairs Office; Zhang Xinwen, director of Shandong Development and Reform Commission; Ji Binchang, Shandong Industry and Information Technology Department; She Chunming, director of Commerce Department of Shandong; Zhang Bin, director of Shandong Provincial State-owned Assets Supervision and Administration Commission; Sun Shouliang, director of Shandong Government Research Office; Zhao Shiyu, director of QingdaoSino-German Ecopark Management Committee; and Ma Lianxiang, Party Secretary and President of QUST. Birgit Riegraf, President of Paderborn University also attended the ceremony.
Gong Zheng met with Riegraf and Ma Lianxiang and conducted in-depth exchanges on strengthening Sino-German educational and technological cooperation. Ma Lianxiang delivered a speech. He said that on the basis of the Sino-German Campusat QUST, we will be constructing the Sino-German Campusat Paderborn University. These will provide strong support of talent, technology and platform for the new and old kinetic energy conversion in Shandong Province, and contribute new and greater power to strengthen Shandong.
During his visit, Ma Lianxiangalso visited the near-80-year-old Professor Pahl, the German founder of Sino-German Technical College (CDTF in German), and thanked him for his contribution to the educational and technological exchange and cooperation between QUST and German universities. Professor Pahl presented an academic monograph to Ma Lianxiang.
Ma Lianxiang also met with the German director of the Sino-German Campus (Germany) and some QUST alumni in Germany.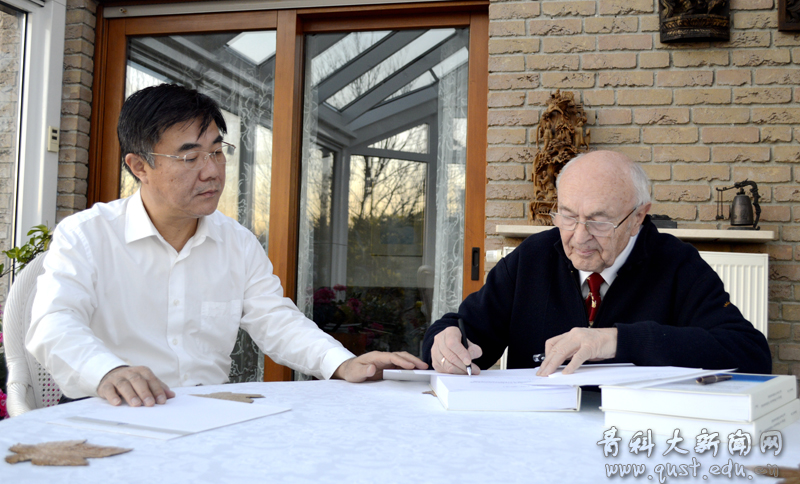 Original Article From: https://en.qust.edu.cn/News.htm
Learn More and Apply: Qingdao University of Science and Technology