News.hust.edu.cn (Reporter Zhang Wenyi) On June 28, the 1st HUST-Brown University Day was hold in HUST. The event included the sections as Intercollegiate Strategic Dialogue, the Tongji Medical Forum, the appointment of four Guest Professors and other activities. Prof. Chen Jianguo, the Vice President of HUST, attended the event.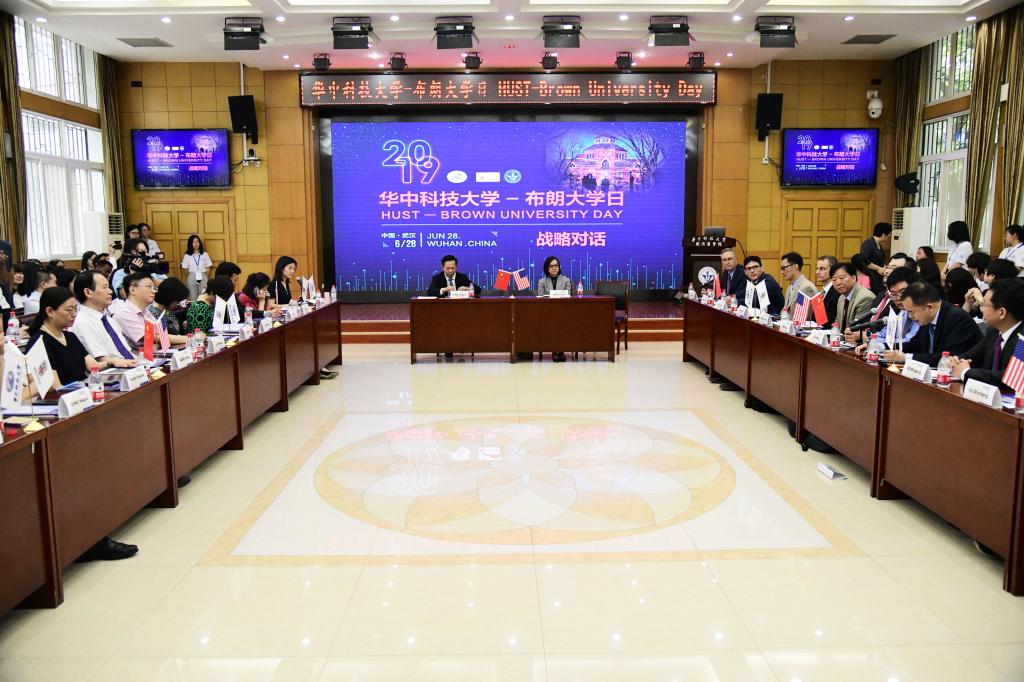 Chen noted in his speech that the cooperation with Brown University has become another highlight of HUST's cooperation with U.S. universities. HUST-Brown University Day is of strategic significance to consolidating and deepening the exchanges and cooperation between HUST and Brown University, building first-class disciplines and cultures, and cultivating first-class talents. Through the event, he hoped that the two sides would become close allies and partners, advance the transformation of HUST-Brown University cooperation from "single medical cooperation" to "multidisciplinary cooperation", further expand the cooperation range and deepen the connotation of cooperation, plan and construct joint research platforms and international laboratories, to create a rosy prospect for the parallel development of faculty and student exchanges and research cooperation.
Prof. Susan Cu-Uvin, the representative of Brown University, introduced the history and current development of the university. She also showed humanistic look of Brown University through a video. Founded in 1975, Brown Medical School is a very young medical school with a harmonious atmosphere and full of humanistic feelings.
According to Prof.Hu Yu, the President of Wuhan Union Hospital (WUH-HUST), internationalization is a development strategy of WUH. As WUH's exchanges with Brown University and Lifespan Corporation are becoming increasingly frequent, they are becoming WUH's important partners. Xu Shunqing, Vice Dean of the School of Public Health (SPH) of Tongji Medical College, reviewed his cooperation with Prof. Zheng Tongzhang and Prof. Liu Simin of Brown University since 2012, hoping to promote the development of the research team through cooperation.
At the Intercollegiate Strategic Dialogue, the attendees exchanged ideas on the current situation and prospect of HUST-Brown University cooperation. Prof. Zheng Tongzhang, Prof. Frank Sellke, Prof. Liu Simin, Prof. Philip Haines, Prof. Wen-Chih Hank WU and Prof. Gerwald Jogl from Brown University, as well as Prof. Dong Nianguo, Prof. Xie Mingxing; Prof. Lu Yongxin, Prof. Li Hua, Prof. Li Yuanyuan and student Cao Anlan from HUST delivered speeches respectively.
At the Guest Professor appointment ceremony, Frank Sellke, Susan Cu-Uvin, Liu Simin and Zheng Tongzhang were appointed Guest Professors of HUST. They pledged further efforts to promote HUST-Brown University exchanges and cooperation. Chen Jianguo presented the four professors with letters of appointment.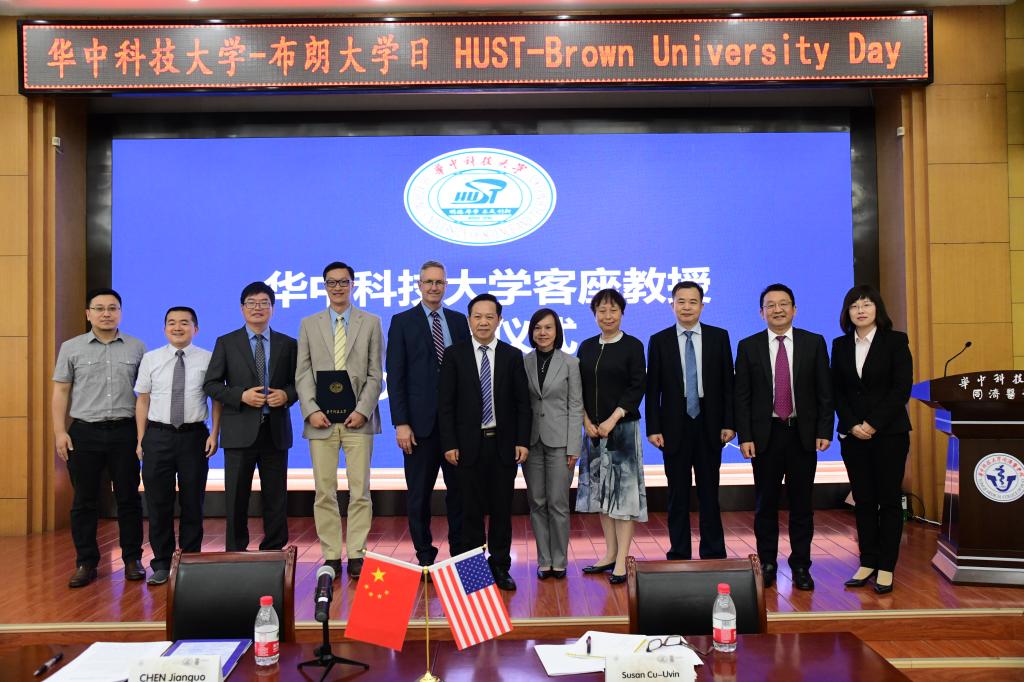 At the Intercollegiate Cooperation Seminar, the two sides discussed the content of the MOU and the direction of future cooperation. The attendees suggested that the MOU should cover professional fields in which the two sides have carried out substantial cooperation, such as cardiovascular disease and cardiovascular surgery; after achieving fruitful results in early cooperation, the two sides will consider expanding the cooperation range and extending key medical cooperation fields to other fields. They hoped that HUST would focus on specific fields in its cooperation with "Ivy League universities", deepen and continue its cooperation with Brown University.
In the afternoon, Prof. Wen-Chih Hank WU, Prof. Liu Simin, Prof. Gerwald Jogl, Prof. Wang Tao and Prof. Phillip Haines gave impressive lectures at the Tongji Medical Forum. WUH, SPH, the School of Pharmacy and the Institute of Reproductive Health also organized a seminar. The delegation even paid a visit to Wuhan Children's Hospital.
Ms.Chen Jie, Deputy Director of the International Exchange Center, hosted the opening ceremony. The delegation of Brown University, Tongji Medical College (TMC), the School of International Education, WUH and Tongji Hospital, as well as faculty and student representatives participated in relevant activities. The delegation also visited the historical corridor of TMC. On June 29 and 30, some professors of Brown University attended and spoke at the 6th Wuhan International Conference on Cardiovascular Disease, sharing advanced research findings in this field.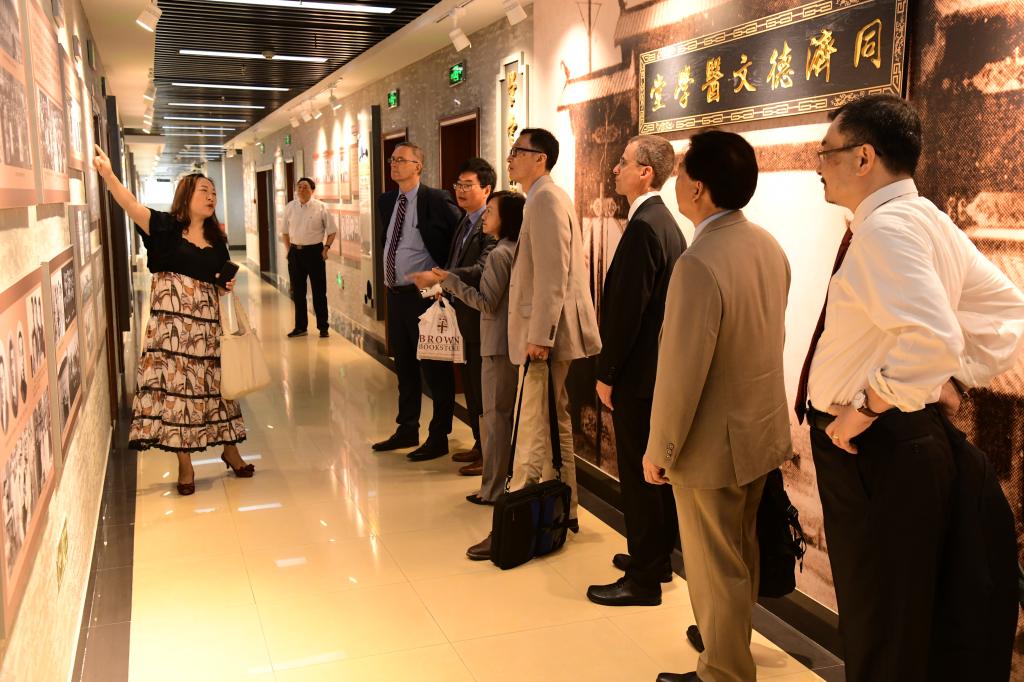 Photo/Xing Guosheng
Located in Providence, Rhode Island, Brown University is a world top private university and one of the oldest Ivy League universities in the U.S. The university comprises the Graduate School, the Alpert Medical School, the School of Engineering and the School of Public Health. In recent years, we have maintained frequent exchanges with the university, and achieved brilliant results in research cooperation, talent training, academic exchanges and other fields.
Links:
Frank Sellke is Karl Karlson and Gloria Karlson Professor, Chief of Cardiothoracic Surgery at Rhode Island and The Miriam Hospital, Professor of the Alpert Medical School, Brown University.
Susan Cu-Uvin is Professor of Obstetrics and Gynecology and Professor of Medicine at the Alpert Medical School, as well as Professor of Health Services, Policy and Practice at the School of Public Health, Brown University. She is the recipient of the First Annual Ladies' Home Journal Health Breakthrough Awards and the Constance B. Wofsy Women's Health Investigator Award from the AIDS Clinical Trials Group.
Liu Simin is Lifetime Professor at Brown University, Adjunct Professor at Harvard University, Fulbright Distinguished Chair in Global Health, as well as a world-renowned epidemiologist. He has published over 300 research papers on authoritative international biomedical journals.
Zheng Tongzhang is Professor of Epidemiology at the School of Public Health, Brown University and Director of the Brown-China Environmental Health Science Center. He has published or co-published over 450 research papers on authoritative international biomedical journals.
Original Article From: http://english.hust.edu.cn/About/News___Events.htm
Learn More and Apply: Huazhong University of Science and Technology