Jointly hosted by School of Foreign Studies and English Speech and Debate Association, the 4th Shanghai International Debate Open (SIDO) was held in Innovation Center during 30th March to 1st April. It is, by far, the largest international debate tournament in China and, with the insurmountable fabulous judging pool, it attracted a lot "debate stars" who had been previously crowned as Asian, European or even World champions to compete. Some of the participants jokingly named SIDO as "Shanghai International Judge Debate Open", when they figured out that some of the speakers they encountered were actually invited adjudicators in other regional tournaments. The competition was fierce and tough, only 32 out of 188 teams can break into the main break category after six preliminary rounds, and only 2 out of 376 can happily take the final prize money away with them. "Goon Kangaroos", an open team formed by Clyde Welsh who was the grand finalist of World Universities Debate Championship (WUDC) and Yarn Shih from Nanyang Technological University finally champed the SIDO 2018. Shen Yan(Miranda), senior student of School of Foreign Studies, together with Danil Kustin, a Russian debater, broke into open octo final on represent of SUFE. Other SUFE teams also performed well. Such is a pity that three of them missed the break by only one team point.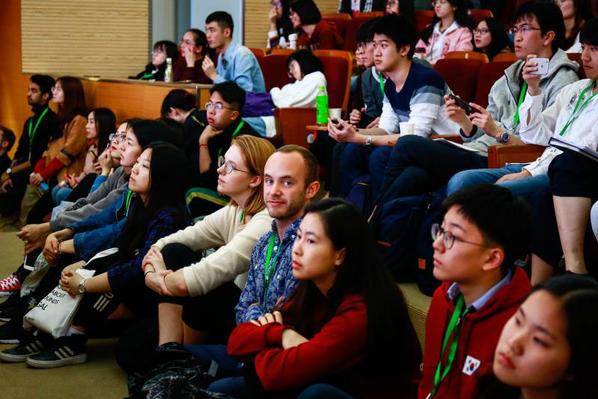 The motions widely cover a lot of recent issues, the themes of which range from education, technology, inequality, gender to international relation. Some of the motions are indeed big challenges towards the knowledge bases of the participants. As the British Parliamentary (BP) formats adopted in the tournament forbids participants from searching from the internet, debaters need to purely prepare their 7 min speeches based on what they have already known. A lot of participants showed a confused face towards "Russian Commonwealth" and directly claimed they have no idea what it is. It is, sometimes, a quite embarrassing moment to see somebody in your room get the motion in a completely wrong way, such as take NATO as North American Trade Organization. However, most debates happened here are of-high quality and worth watching. It is a competition on facts, logic as well as rhetoric.
Such an academy gained the attention of some of the most prestige universities in China and all around the world, including Peking University, Tsinghua University, Fudan University, Renmin University, Beijing Foreign Studies University, University of Macau, Oxford University, Cambridge University, National University of Singapore, etc. SIDO also have a high school break category. Don't look down upon high school students just because they are younger than you. They might give you a life lesson. Stone, a high school student from Hangzhou Foreign Language School, won a lot of university students and successfully advanced into semi-final in the main breaking category. 24 teams were sent by Learning Leaders, which is the sponsor of SIDO this year. Their kids are also top-performers, with some of them breaking into main category as well.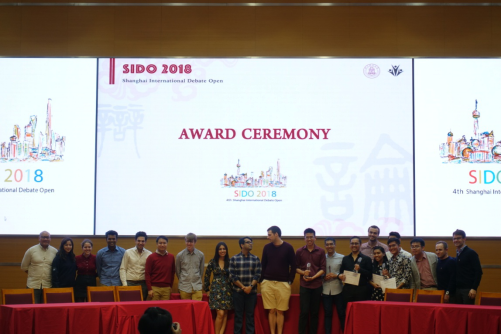 Ashish Kumar, the overall best speaker of WUDC 2015, the Deputy Chief Adjudicator of SIDO 2017, the Chief Adjudicator of Thailand WUDC 2020, participated SIDO 2018 as a debater and broke 1st among 188 teams. When asking him of the impression of SIDO 2018, he said that he was impressed by how fast Chinese Debate Circuit has evolved and developed. He also mentioned that SIDO each year was "phenomenal" effective. Even Shen, member of Team China in World Schools Debate Championship (WUDC), would like to share some tips with his peer. He suggested the fellow debaters should focus more on the improving process rather than the mere results.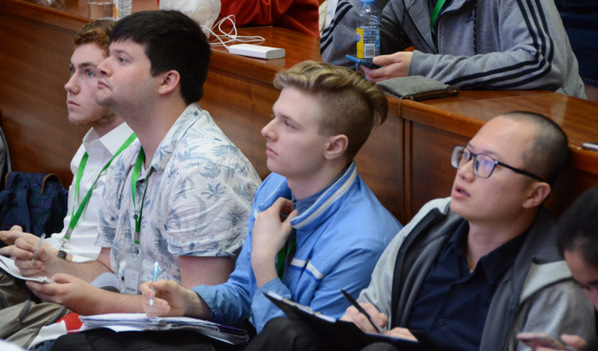 For the organizing committee of SIDO, members of SUFE English Debate Team(EDT) as well as the School of Foreign Studies, the host of SIDO, just as the motion of Grand Final, requires a lot of hard work such as sit up far into the night and patiently reply tons of email. Fortunately, the hard work got repaid at the end. Lin Qiyu(Sam), the previous captain of the EDT and the co-convenor of 2nd SIDO, was one of the few Chinese Invited Adjudicator in 4th SIDO. He said that he was proud to see the drastic increase on the participation of the foreign teams. For Sun Yan(Daisy), the "fairy godmother" of SUFE EDT named by her students, Head of English Department and convenor of SIDO, she believed that SIDO contributes to the cultivation of international talents, as it becomes more and more famous and internationalized. She attributed the success of SIDO to the massive supports given by School of Foreign Studies as well as Shanghai University of Finance and Economics(SUFE).