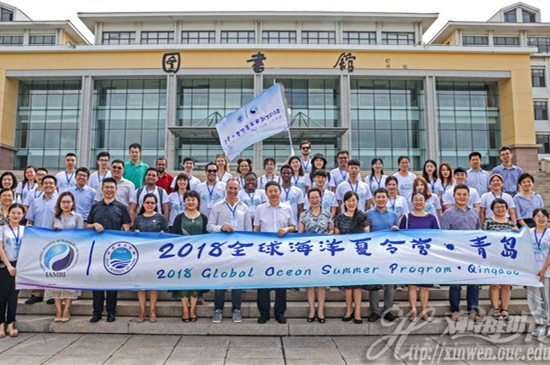 From August 13 to August 24, 2018, the 2018 Global Ocean Summer Program was held at Ocean University of China (OUC) following an opening ceremony, with thirty students from Australia, Egypt, Nigeria, Bahamas, Ukraine, Pakistan, Bangladesh, South Korea and China participating in this program.
At the opening ceremony, Vice President Li Huajun of OUC delivered a speech. He extended a warm welcome to all the participants and gave an overview of OUC's history, disciplinary strengths and overseas students education. He hoped that the program would strengthen mutual understanding among members of the International Alliance of Marine-related Institutions(IAMRI) so as to promote international exchanges and cooperation. He expected that the participants could help and learn from each other during the program, care more about global development and strive together for a better world.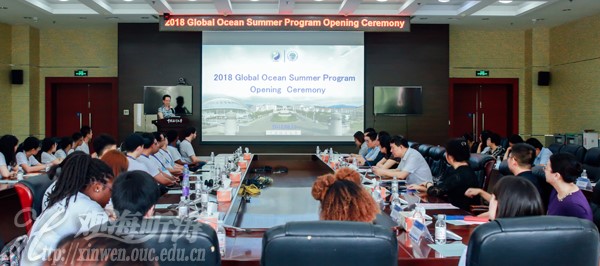 Micheal James Bradley, a post-graduate from James Cook University, an IAMRI member institution, received the camp flag and gave a speech, in which he expressed his expectations for this program. He hoped that the beautiful coastal city of Qingdao could reveal further charm of ocean research and make marine scientific research more internationalized.
The opening ceremony was chaired by Prof. Song Wenhong, director of the International Office. Also in attendance were faculty and staff from the College of Oceanic and Atmospheric Sciences, College of Marine Geosciences, College of Food Science and Engineering, School of Medicine and Pharmacy, College of Liberal Arts, Journalism and Communication, School of Law and Political Science, School of International Education, Student Affairs Office and International Office.
After the ceremony, Prof. Jing Zhao from OUC's Key Laboratory of Physical Oceanography (Ministry of Education), delivered the first keynote presentation entitled "Ocean and Climate". He spoke on the topic "ocean is the mother of mankind" by first explaining the structure of the Chinese character for ocean and then elaborating it in terms of climate, environment and resources. He also touched upon a series of marine issues resulted from global warming and the challenges for us, providing participants with a more comprehensive understanding of the ocean and the world.
During the 12-day program, the 8 colleges involved offered several ocean-themed reports in English and conducted many activities for the participants, including a simulation training of oceanographic survey, micro-observation of marine organism, preparation and classification of specimens, interesting physical experiments and experiments about wind wave current and meteorological phenomena. In addition, courses of Chinese culture were also provided, such as the Book of Changes, Tai Chi, Chinese opera and traditional Chinese painting, through which the students gained a deeper understanding of traditional Chinese culture.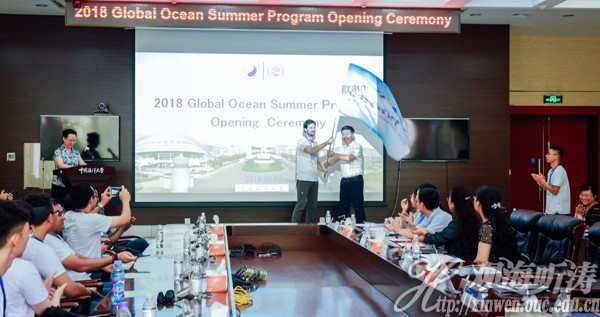 Original Article From: http://eweb.ouc.edu.cn/news/list.htm
Learn More and Apply: Ocean University of China