On the morning of November 12, 2015, a 4-member delegation led by Jaime Ortiz, Vice Provost of the University of Houston (UH), visited SWUN. A meeting was held at the conference room of the Administration Building on the WuhouCampus.Ding Keyi, Vice President of SWUN, and Li Gengnian, Assistant President and Director of the Office of International Cooperation, also attended the meeting.
On behalf of the university, Vice Presidente Gengnianwelcomed the guests and made brief introductions to the university and the collaborations with American universities. Jaime Ortiz, Vice Provost of the University of Houston, introduced their programs in China and hoped to promote and deepen cooperation between SWUN and UH. The two sides discussed and reached agreement on collaborations in expert lecturing, teacher training, and cooperation in key disciplines, and thus laid a solid foundation for comprehensive further collaboration between the two universities.
University of Houston (UH) is located in Houston, Texas, and has four campuses with more than 70,000 students. The university offers 278-degree programs through its 12 academic colleges on campus. Its natural science is ranked 10th in America, and its college of Hotel and Restaurant Managementisranked3rdin theU.S., and its Houston Law Centerisranked50th in the U.S.. InU.S. News & World Report, Health Law and Policy is ranked 2ndin the U.S.anditsIntellectual Property Law3rd intheU.S.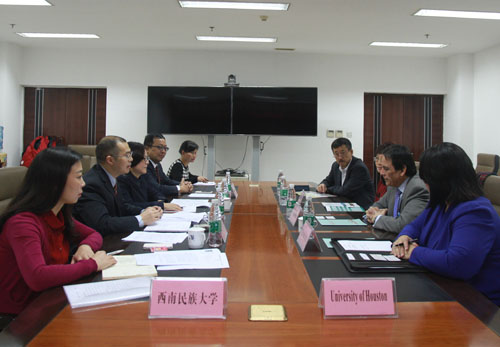 Original Article From: http://english.swun.edu.cn/News.htm
Learn More and Apply: Southwest University for Nationalities