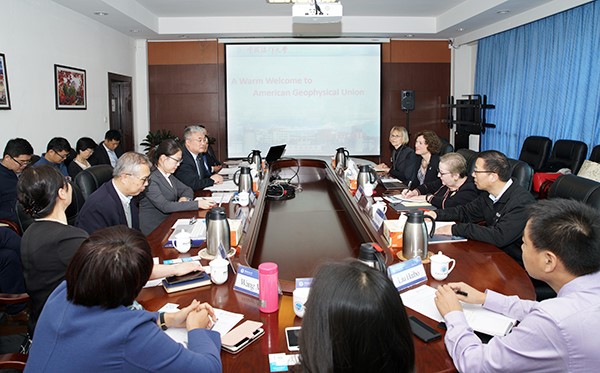 On October 12, 2018, Chris McEntee, Executive Director of the American Geophysical Union (AGU), led a delegation to Ocean University of China (OUC). President Yu Zhigang and Vice President Yan Ju received the guests in the Xingyuan Buiding, and the two sides engaged in a discussion about cooperation.
President Yu expressed his welcome to the delegation. He said that OUC was a national key university and had been selected as one of the 36 institutions in the Double First-Class Initiative, ushering in better development opportunities. At present, OUC has given priority to developing five major groups of disciplines in the fields of geoscience and bioscience, namely marine science, aquatic science and technology, marine medicine and food, marine development engineering and environmental protection technology, and marine development. Since AGU enjoys a world reputation in geosciences, many professors at OUC have engaged in AGU's academic activities, as well as publishing papers in its journals. Yu expressed his hope that the two institutions could, through this visit, set up an international platform to bring about more cooperation. In addition, he added, OUC would support more teachers and students to take part in international exchanges.
After extending her thanks to the reception, Director Chris McEntee gave an overview of AGU's history, research, staffing, academic conferences and journals. She noted that according to AGU's own data, journals papers by Chinese institutions continue to grow in both quantity and quality, and she added that OUC was influential in China's marine and aquatic fields. She said that she was looking forward to more involvement from OUC's teachers and students in AGU's academic activities, and invited professors from OUC to attend their 100th anniversary celebrations next year.
Later, the two sides held a discussion about AGU's academic activities and data usage.
After the talks, Prof. Zhang Minghua, Editor-in-Chief of AGU's Journal of Geophysical Research, delivered a lecture to share his experience in reviewing academic papers, which gave a comprehensive overview from topic selection and submission all the way through to reviewing. The participants had a lively and in-depth discussion.
Prof. Song Wenhong, Director of OUC's International Office, moderated the meeting, which was also attended by representatives from the Key Laboratory of Marine Chemistry Theory and Technology under the Ministry of Education, and the Colleges of Chemistry and Chemical Engineering, Oceanic and Atmospheric Sciences, Marine Geosciences, Marine Life Sciences, and Environmental Science and Engineering, as well as the School of Medicine and Pharmacy, the Division of Science of Technology. and the Graduate School.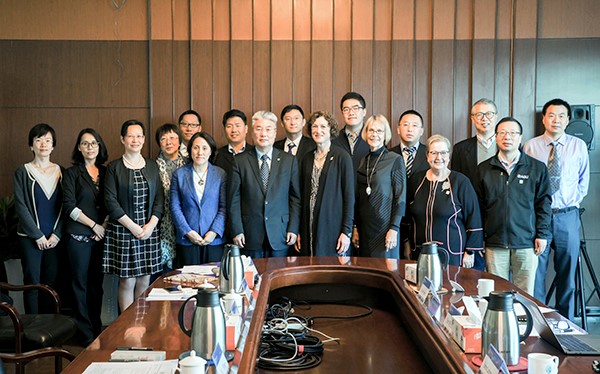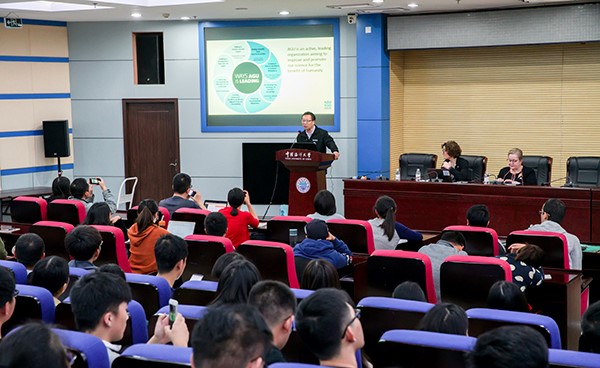 Original Article From: http://eweb.ouc.edu.cn/news/list.htm
Learn More and Apply: Ocean University of China