On the morning of January 9th, 2019, the delegation led by an internationally renowned chemist Sir Fraser Stoddart visited Wuhan University, receiving warm reception of Academician Dou Xiankang, President of WHU. The meeting was conducted at the reception hall of WHU's landmark building--- The Old Library. During this visit, Sir Fraser was awarded as Honorary Professor of WHU and gave a presentation to students and teachers. Academician Zhang Lina, Dean of College of Chemistry and Molecular Sciences, Professor Zhou Xiang, Professor Wang Cheng and leaders from relevant institutions present as WHU representatives.
Before the awarding ceremony, President Dou Xiankang held friendly talks with Sir Fraser Stoddart and expressed warm welcome to the delegation members Mark Olson and Andrew Sue, who were both elevated into Young Overseas High-level Talents Introduction Plan from Tianjin University.
President Dou Xiankang (right) meeting Sir Fraser Stoddart (left) at the reception hall
Cordially welcoming the delegation of Sir Fraser Stoddart, Academician Zhang Lina delivered a welcome speech and presided over the honorary professor awarding ceremony and Sir Stoddart's speech. Sir Stoddart accepted the certification from Wuhan University amid warm applause from students and teachers, with President Dou's congratulations and WHUers' expectation of more chemistry classes from world-class scholars like Sir Stoddart. "I am really looking forward to Sir Fraser's lecture. Having such an outstanding professor is a great inspiration for us." said Zhao, a junior from College of Chemistry and Molecular Sciences.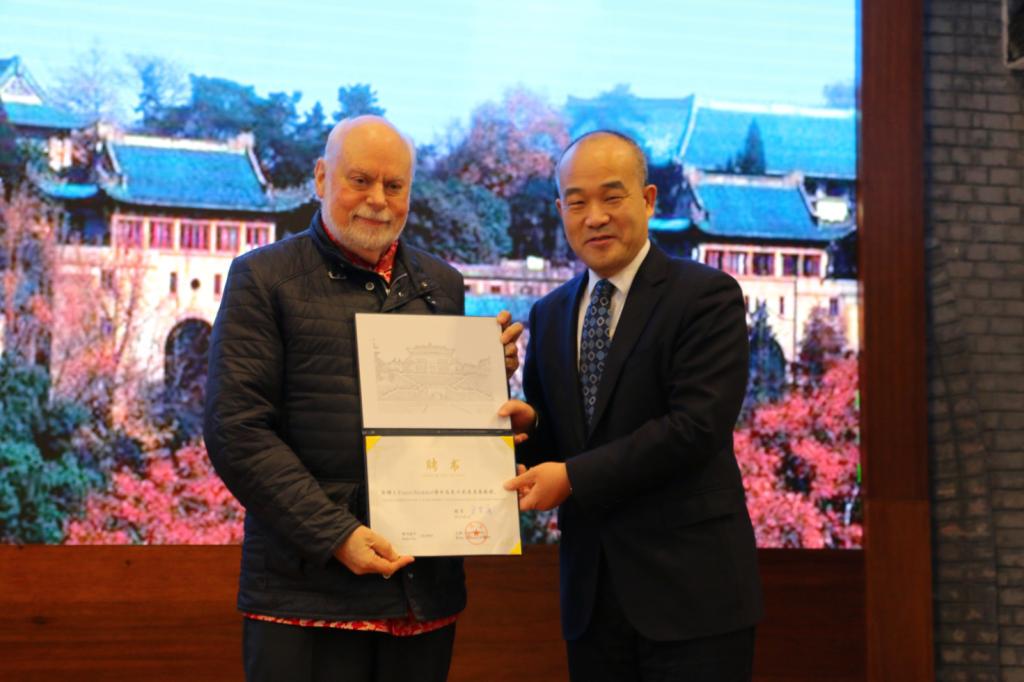 President Dou awarding Sir Fraser Stoddart as Honorary Professor
Following the awarding ceremony, Sir Fraser Soddart gave a presentation on his life story and impressive schooling experiences, including his way of coming top in chemistry field and winning 2016 Nobel Prize for Chemistry. Sir Fraser Stoddart mentioned the privilege of being awarded in what he loved for his whole life, encouraging the new generation to try something different and explore the unknown, "Scientific discovery is not yet predictable. If you have an exciting road to follow, do not be put off by those who say there is nothing at the end of it. Persevere, and enjoy the excitement of exploring the unknown."
After the presentation, students came on to the stage to ask questions. Sir Fraser Soddart was greeted by excited students asking for autographs and photos. It is expected that Wuhan University will carry out more cooperations with overseas scholars in the field of chemistry.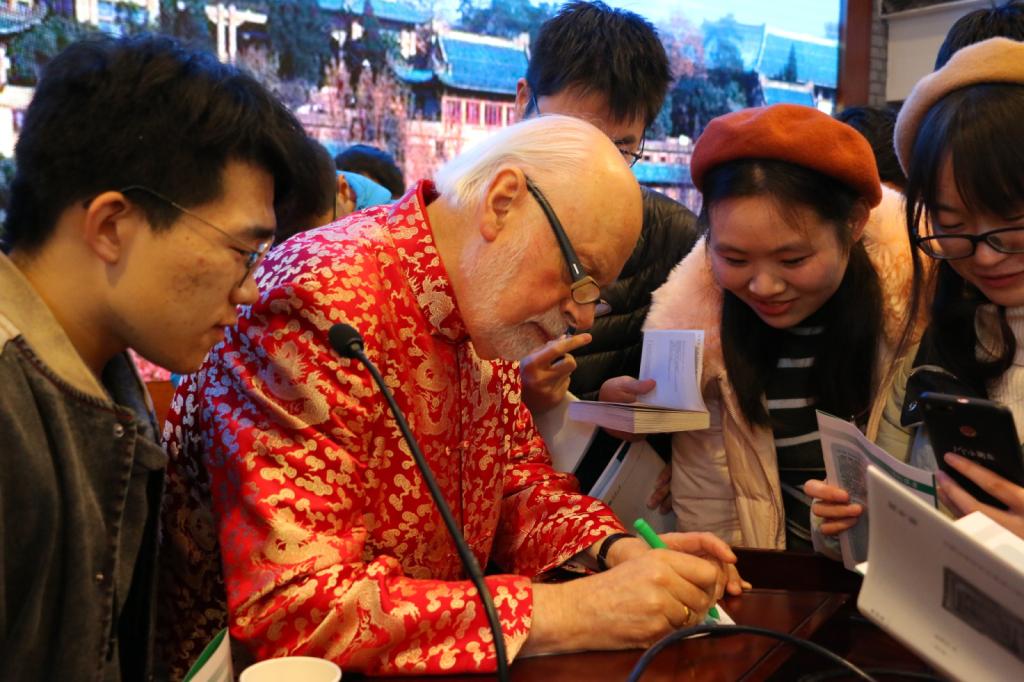 Sir Stoddart autographing for students
"My impression of Wuhan University is that I almost come home. Because it is the kind of climate that I grew up in. I am used to this kind of cold winter." said Sir Fraser Stoddart in the interview. "The car brought us winded up and down in hills. And when I arrived at the Old Library, I realized I was on the top of a mountain. I can perceive the historical value of this place and I am so impressive."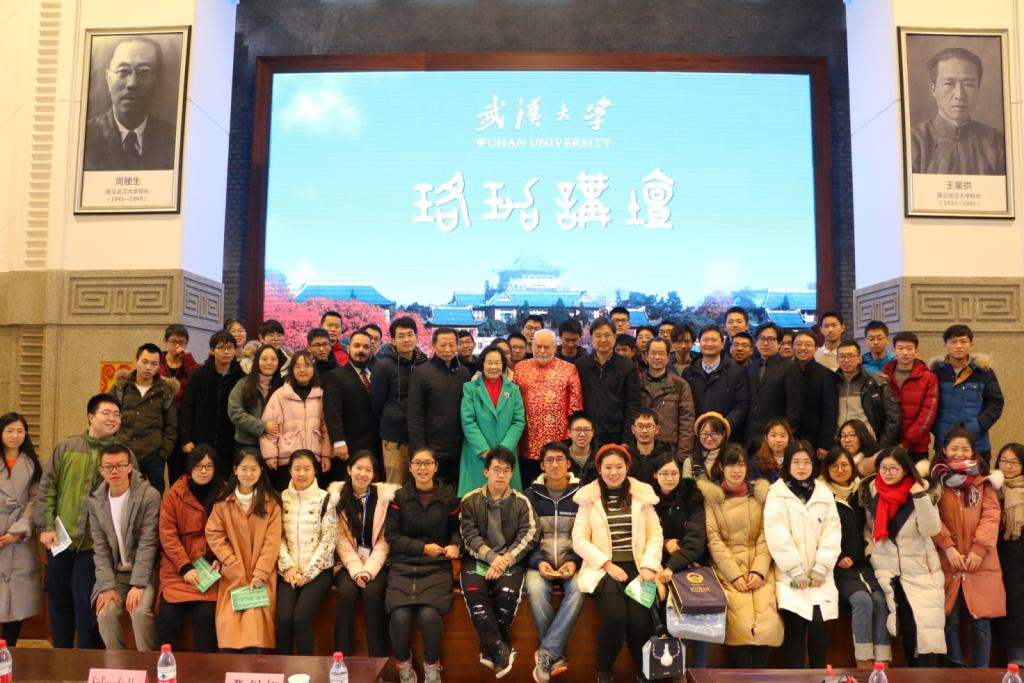 Group photo of Sir Stoddart with students
Sir James Fraser Stoddart is a Scottish chemist who is head of the Stoddart Mechanostereo chemistry Group in the Department of Chemistry at Northwestern University in the United States. Stoddart has developed highly efficient syntheses of mechanically-interlocked molecular architectures such as molecular Borromean rings, catenanes and rotaxanes utilizing molecular recognition and molecular self-assembly processes. He shared the Nobel Prize in Chemistry together with Ben Feringa and Jean-Pierre Sauvage in 2016 for the design and synthesis of molecular machines.
Original Article From: https://en.whu.edu.cn/list.jsp?urltype=tree.TreeTempUrl&wbtreeid=1050
Learn More and Apply: Wuhan University