​
On the morning of October 19, 2015, Zeng Ming, President of SWUN, and Ding Keyi, Vice President of SWUN met the 5-member delegation of the University of Chester, including Prof. Tim Wheeler, President of the university, and Prof. Phil Harris, Dean of the School of Business Research, at Conference Room 304 of the Administration Building. Li Gengnian, Assistant President of SWUN and Director of the Office of International Cooperation, and other related staff members of the office were also present at the meeting.
On behalf of the school, President Zeng Ming warmly welcomed the guests and made brief introductions to the school. President Tim Wheeler also introduced the University of Chester. The two sides discussed the collaboration between SWUN and the University of Chester, including joint training of students, the faculty exchange program, the cooperative establishment of a Confucius Institute, and the operation of joint educational programs. After the meeting, the two universities signed a memorandum of understanding (MOU), which laid a solid foundation for comprehensive further collaboration between the two universities.
Founded in 1839, the University of Chester is one of the oldest universities in the UK. It has six campuses and seven colleges. It is ranked 52nd in Times Higher Education World University Rankings in 2014. The University of Chester has also established inter-school collaboration with Beijing Normal University, Beijing Foreign Studies University, Shanghai Jiao Tong University, etc.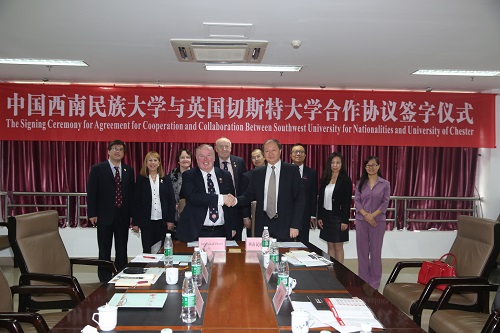 Original Article From: http://english.swun.edu.cn/News.htm
Learn More and Apply: Southwest University for Nationalities