On the morning of January 12, a 3-member delegation headed by Dr. JAMES CL NGA, president of City University College of Science and Technology visited SWUN. Ding Keyi, Vice President of SWUN, met with the guests at the conference room of the Administration Building, and Li Gengnian, Assistant President and Director of the Office of International Cooperation also attended the meeting.
At the meeting, Vice President Ding Keyi extended a warm welcome to the guests. Afterward, both sides introduced their own development history, educational features, academic development, and campus environments, and had a detailed discussion about interscholastic cooperation patterns and cooperative areas. Both sides hoped to establish substantive cooperation projects in the field of joint training of students so as to push forward the process of internationalization of the two universities with joint efforts. After the meeting, an interscholastic cooperative agreement was signed between City University College of Science and Technology and Southwest University for Nationalities.
The agreement has further promoted the cultural exchanges between SWUN and the countries of the Belt and Road Initiative and has laid a good foundation for the comprehensive international cooperation and exchange programs of SWUN of the 13th Five-Year Plan (2016-20).
City University College of Science and Technology was founded in April 1984, approved and accredited by the Education Ministry and Malaysia Qualification Agency (LAN/MQA). City U has a high degree of internationalization with students from more than 40 countries and regions, including China, Denmark, South Korea, Japan and has established an integral education system of Bachelor, Master, and Ph.D. programs.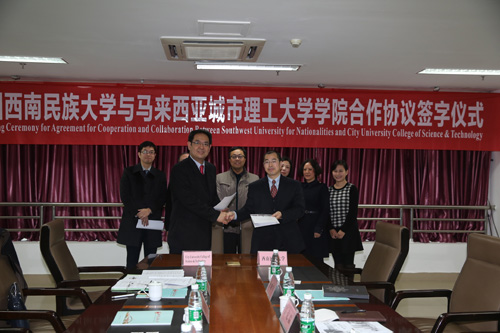 Original Article From: http://english.swun.edu.cn/News.htm
Learn More and Apply: Southwest University for Nationalities