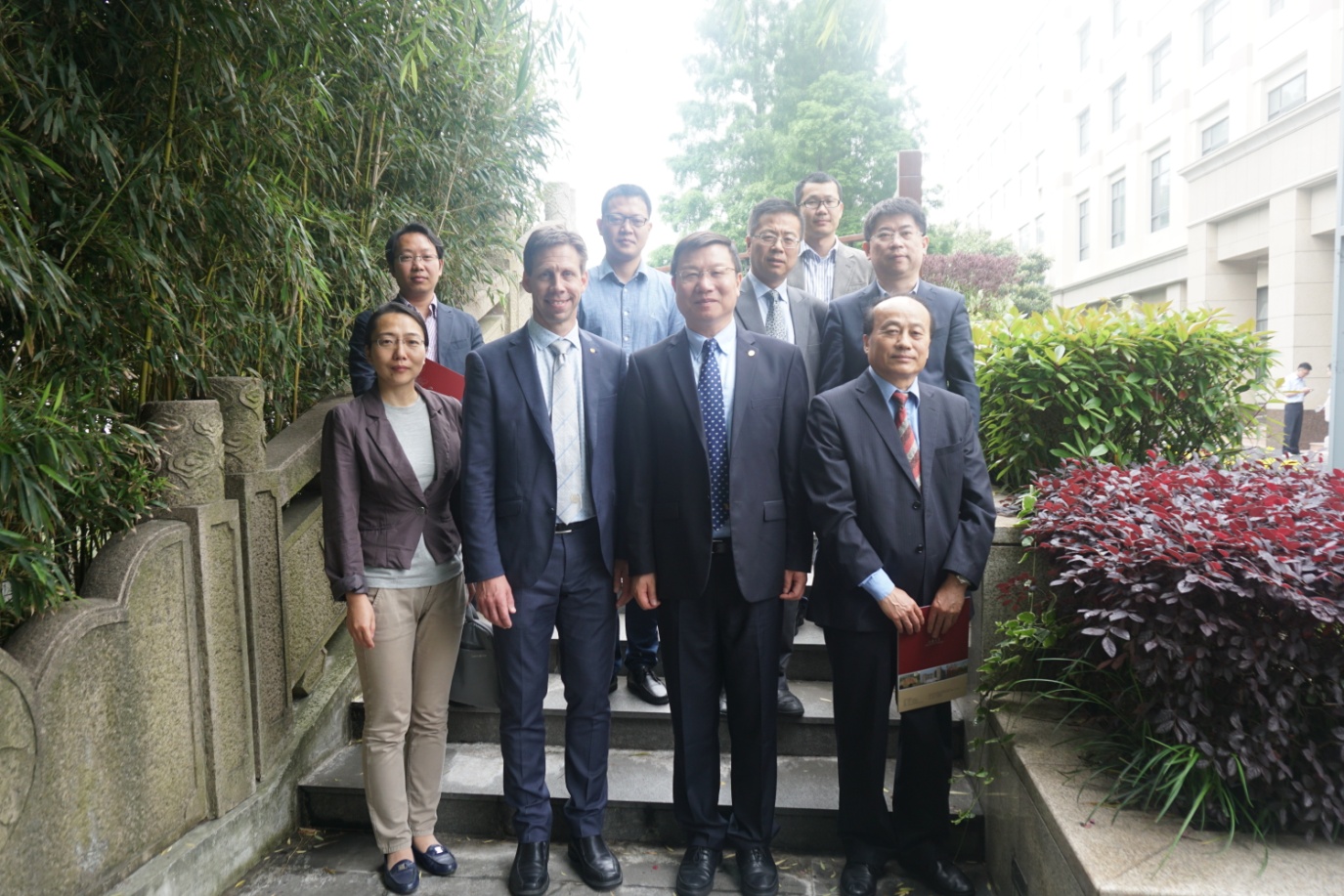 On May 16th, a delegation led by Prof. Anders Palmqvist, Vice President of Sweden's Chalmers University of Technology, visited Shanghai University. Prof. Wang Xiaofan, Vice president of Shanghai University, received the guests at Baoshan Campus. Prof. Zhang Jiujun, Director of the Institute for Sustainable Energy, Prof. Cui Wei, Director of SHU International Cooperation Office, and representatives from the Nano Science & Technology Research Center and Sino-Sweden Microsystem Integration Technology Center accompanied the meeting.
Vice President Wang Xiaofan extended warm welcome to the guests and briefly introduced the education of doctoral students at Shanghai University. Prof. Liu Jianying, academician of The Royal Swedish Academy of Engineering Sciences, from the Chalmers University of Technology Microtechnology Nanoscience Department, explained the significance of this visit and reviewed the cooperation between the two universities in faculty & student exchanges, scientific research cooperation and mutual visits. Prof. Anders Palmqvist expressed his gratitude for the warm reception given by Shanghai University, and expressed the hope that the meeting would further deepen mutual understanding and enhance mutual trust.
In the afternoon, the delegation visited Institute of Sustainable Energy, Nano Center, as well as Analysis and Testing Center. The delegation had an in-depth understanding of the research status and laboratory conditions in related fields of our university.
Founded in 1829, Chalmers University of Technology is a top university of science and engineering in Sweden, focusing on the education and research of engineering technology, natural science and architecture. It ranked 128th in QS World University Rankings 2019, and is a world leader in eight fields: construction environment, energy, information & communication technology, life science engineering, nanoscience & nanotechnology, materials science & production. Chalmers University of Technology is a strategic partner of Shanghai University. The two universities have jointly established Sino-Sweden Microsystem Integration Technology Center (SMIT), making significant progress in the joint cultivation of high-level students, especially in scientific research cooperation.
Original Article From: http://en.shu.edu.cn/news/index
Learn More and Apply: Shanghai University