SMU News, May 23 14 people in total of Federation of Indonesian Islamic University Students (FIIUS), headed by Mr. Mulyadi the General Chair of FIIUS Central Council, took a visit to SMU, with Wang Shikun Political Division Deputy Director of Embassy of the People's Republic of China in the Republic of Indonesia in the company. President Zeng Ming and Vice-President Ding Keyi met with the delegation. Also attending this exchange were staff in charge from Division of International Cooperation and Exchange, 15 minority student representatives and some Indonesian students in SMU.
President Zeng expressed that communication between countries has become a major subject in the course of world development. He hoped that young people between Indonesia and China could have a better mutual understanding to promote cultural intercourse.
Ding Keyi made a brief introduction of SMU and its international cooperation and exchanges. Besides, youth representatives of both sides had talked about their minority culture, ethnic costume, and college life.
After the talk, the delegation visited the National Museum on the Wuhou campus, which gave them a more intuitive recognition of China's diversified but integrated ethnic culture.
It is learned that this exchange was a specific measure of implementing the Education Act Outlined on Jointly Building "The Belt and Road" issued by the Ministry of Education. SMU will continue to expand its exchanges and cooperation in such fields as the humanities and education.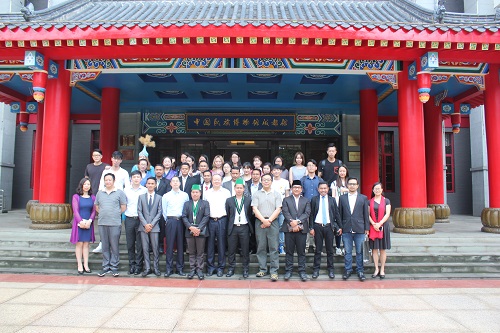 Original Article From: http://english.swun.edu.cn/News.htm
Learn More and Apply: Southwest University for Nationalities