On August 30, 2018, Prof. Taejun Han, Acting President of Ghent University Global Campus (GUGC) led a delegation to Ocean University of China (OUC). Vice President Li Huajun received the guests and the two sides had a meeting.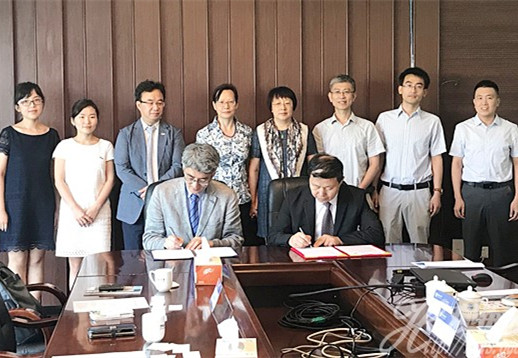 Vice President Li warmly welcomed President Han and his delegation. Li briefed the guests on OUC's history, disciplinary strengths and the effort it is making to become a world-class university. He then reviewed the fruitful cooperation with the main campus of Ghent University during the past three decades in the fields of joint education, academic exchanges and scientific research. After extending warm congratulations on the founding of the global campus in Incheon, he expressed an expectation for bilateral and multilateral collaborations with GUGC in response to today's global trends.
President Han expressed his thanks for the warm welcome and gave an overview of GUGC's history, disciplinary strengths and other aspects. Since OUC enjoys a worldwide reputation in marine-related research, Han hopes that OUC and GUGC could work together and exercise their own advantages to make constant progress, driving the economic growth and social development in East Asia.
The meeting was moderated by Prof. Song Wenhong, director of OUC's International Office. The two sides discussed potential cooperation under such programs as the "Korean Peninsula Marine Biotechnology-based 'Seaweed Peace Belt' and 'Red Gold' project". Deputy Dean Wang Min of the College of Marine Life Sciences, Deputy Dean Liang Xingguo of the College of Food Science and Engineering and Prof. Liu Shikai of the College of Fisheries, attended the meeting and gave an overview of their colleges.
After the meeting, the two sides signed a Memorandum of Understanding.
Original Article From: http://eweb.ouc.edu.cn/news/list.htm
Learn More and Apply: Ocean University of China