News.hust.edu.cn - On the morning of September 7, German Chancellor Angela Merkel visited Huazhong University of Science and Technology (HUST). Chancellor Merkel delivered a speech to and interacted with the students present.
Prior to the speech, Prof. Shao Xinyu the HUST Chancellor and Prof. Li Yuanyuan the President of HUST accompanied Merkel to visit the exhibition wall displaying the exchange and cooperation between HUST and her partners from Germany. The cooperation with Germany is a traditional feature of HUST's international exchanges, said Shao, adding that HUST has maintained extensive and close cooperative relations with all walks of life in Germany, and carried out practical cooperation with renowned universities and research institutes such as Heidelberg University, Max Planck Institute and Bosch Corporate Research, thus achieving fruitful results. Shao also introduced HUST's tradition of valuing technology innovation and tremendous strength in achievement transformation. Merkel extended her full recognition and appreciation.
S. E. Steffen Seibert, Germany State Secretary; S. E. Dr. Clemens von Goetze, German Ambassador to China; Wu Ken, Chinese Ambassador to Germany; Liang Qian, Vice President of HUST and other leaders were present. Chen Jianguo, Vice President of HUST, hosted the lecture.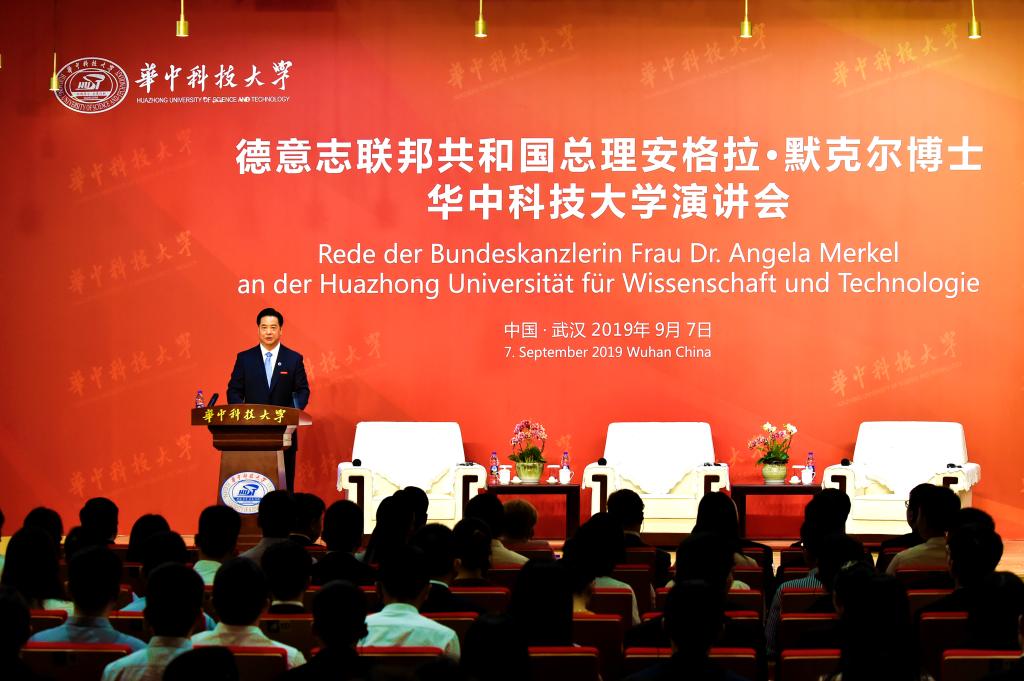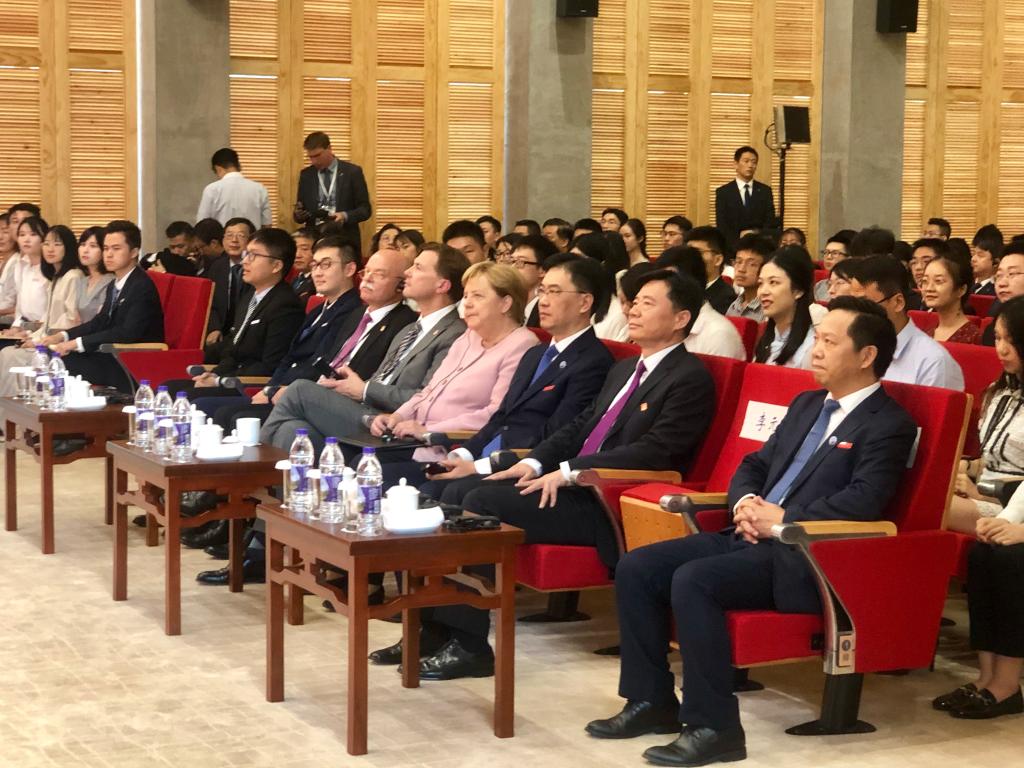 President Li Yuanyuan extended his warmest welcome to Chancellor Merkel in his address on behalf of HUST. Li pointed out that, aiming at building HUST into a world top university, we are speeding up our international development. In the future, HUST would like to deepen the friendship and explore potential cooperation with Germany. By further strengthening the bilateral cooperation with German universities and research institutes, HUST will inject new connotation into the Sino-German all-round strategic partnership and make new contributions to building a community of shared future for mankind.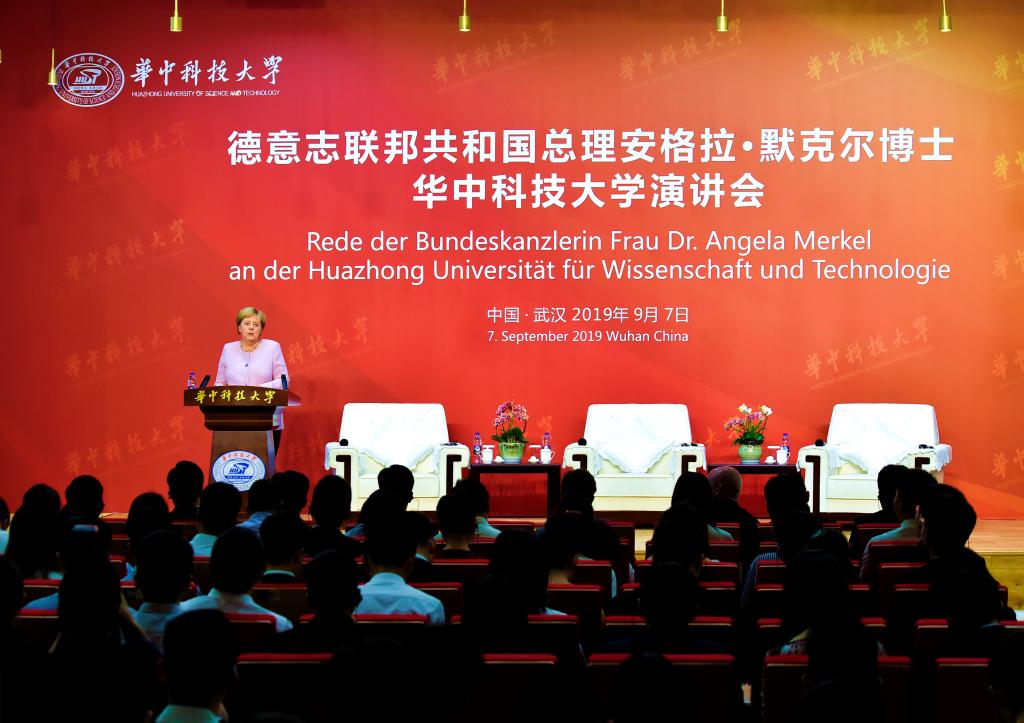 In her speech, Chancellor Merkel said that HUST is a place where talents coming forth in multitudes, including Mr. Julong, the founder of grey system theory; academic leaders represented by Prof. Liu Sifeng; business elite represented by Mr.Zhang Xiaolong, the creator of WeChat; as well as sports stars represented by Li Na and Li Ting. The outstanding alumni have made significant contributions to the society, which is an important reason why HUST is well known at home and abroad.
Big data and AI have developed rapidly in the context of globalization, international cooperation is particularly important and students will stand a chance of getting involved in it, said Merkel. National prosperity is part of world prosperity. To jointly cope with common challenges, students should assume common responsibility. Particularly, humans must try their best to keep the consequences of climate change under control and global climate control is inseparable from China's remarkable contributions.
China assumes major global responsibility. We must strengthen international cooperation in order to stay successful, said Merkel. Clean environment and interesting work make the young generation settle down to create a better life. China and Germany shared the wish. "So we need multilateralism more than ever. We should not do it alone but work together."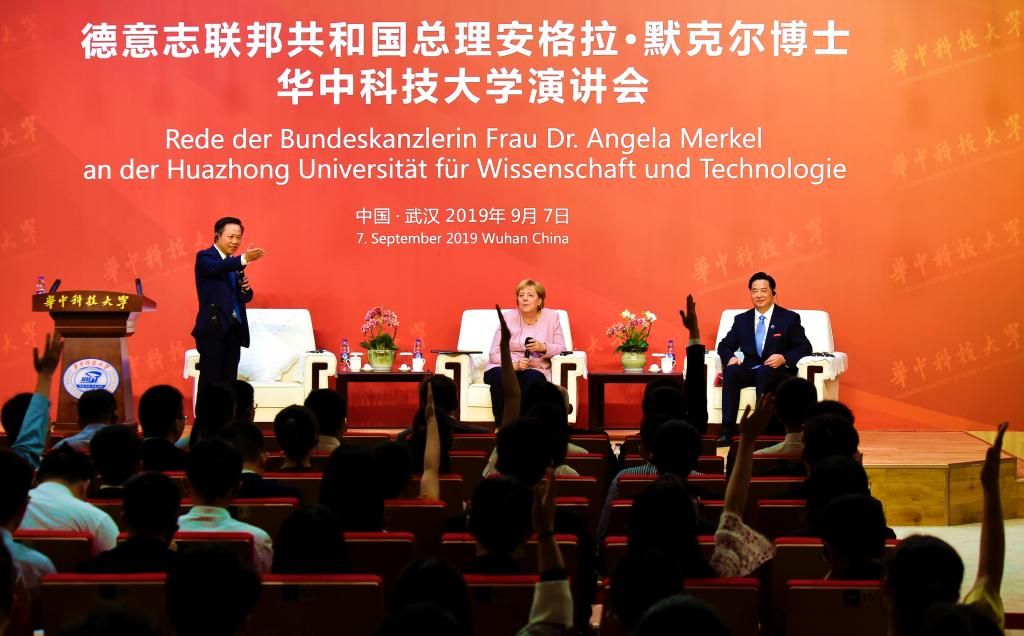 "What changes have you experienced during your 12 visits to China? Why did you choose to visit Wuhan this time?" Song Haipei, a master student at the School of Sociology, HUST, asked. Merkel said, "I previously flew over Wuhan twice and birdviewed the Yangtze River from the sky. I thought I must visit this city to take a look. So I included Wuhan in my schedule."
Wuhan and Duisburg established the first sister city relationship between China and Germany in 1982, said she. Up to this day Wuhan still has a lot of "German elements". Renowned German enterprises like Siemens and small & medium-sized innovative enterprises have settled in Wuhan.
Merkel reviewed her visits across China, saying that she had experienced the transformation of China's economy in Shenyang, shocked by the spectacle of Terra Cotta Warriors in Xi'an, learned about western development in Chengdu, and witnessed the dramatic changes brought by the reform and opening-up in Shenzhen, and learned that there are over 1 million college students in Wuhan.
In the question and answer session, some students questioned about Internet, AI, industrial manufacturing and environmental protection. Merkel answered these questions delightedly. Referring to the popular World Robot Contest, Merkel even suggested that HUST should strengthen exchanges with University of Munich and Technical University of Berlin, to promote disciplinary cooperation. She also recognized Chinese students' proposal to hold Sino-German Robot Contest.
In the afternoon, Merkel visited Optical Valley Branch of Tongji Hospital, Tongji Medical College of HUST (Wuhan Sino-German Friendship Hospital) and communicated with medical staff.
Original Article From: http://english.hust.edu.cn/About/News___Events.htm
Learn More and Apply: Huazhong University of Science and Technology