SMU News, Apr.10 A lecture series on "Plant Genetic Engineering & Plant Biotechnology", hosted by the Office of International Cooperation and Exchange and undertaken by the School of Life Science and Technology, was successively held in the past few days on Hangkonggang Campus and Wuhou Campus. Zhang Hong, a professor of the Department of Biological Sciences, Texas Tech University, was invited to give a three-day lecture at our university. Nearly 400 teachers, undergraduates, and postgraduates from the School of Life Science and Technology as well as the Institute of Qinghai-Tibetan Plateau Research attended the lecture.
On the basis of her research, Professor Zhang Hong launched a lecture series entitled "Why We Need Plant Genetic Engineering?", "The Importance and Security of GMO", "Plant Energies", "Vegetable Oil, Shale Oil and Shale Gas: A Story Between Castor and Guar", "Cultivating New Species of Cotton with Resistance to Salt, Drought and High Temperature", and "How to Write Good English Articles on Technology".
According to the research of plant genetic engineering and the significance of GMO exploitation, Prof. Zhang put forward strategies of improving the production of castor oil on the basis of the current situation of China's castor oil in short supply. Then she also introduced another crop----guar by introducing the world energy present condition and the US oilfield recycling technology. At last, Prof. Zhang introduced AVP1and AtNHX1 as well as the importance of cultivating new species of cotton with resistance to salt, drought and high temperature. Besides, she interpreted how to write an excellent English thesis on technology. The academic lectures broadened students' academic horizons and encouraged them to transform thinking patterns, playing a practical and guiding role.
During lectures, Prof. Zhang was so popular among students for her humorous talk and lots of interactions with them. Students also expressed that they have learned a lot from this lecture.
After the lectures, Prof. Zhang also took a conversation with young teachers of the School of Life Science and Technology and gave some suggestions for their foreign exchange and exchange training for postgraduates.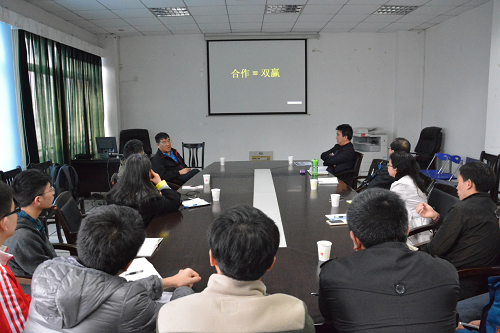 Original Article From: http://english.swun.edu.cn/News.htm
Learn More and Apply: Southwest University for Nationalities