Wuhan University has earned its reputation not only for academic achievement, but also for its cherry blossoms in spring. Each year, the sight of blooming cherry blossoms against the historical buildings draw thousands of visitors from across the nation and abroad.
Sight of Wuhan University cherry blossoms(photo from the Internet)
Since 2016, Wuhan University has been offering free reservations for visitors during the cherry blossom seasons, allowing 15,000 visitors a day on weekdays and 30,000 on weekends enter the campus. During the flowering period, the campus is flooded with people, and it is this situation that prompts workers, students' union and student volunteers from Wuhan University to maintain order, guide visitors and protect the cherry blossoms from wrongdoings. Thanks to these cherry blossom guardians, an enjoyable visiting experience is ensured and inconveniences for students and WHU staff are minimized.
Li Yinglin and Gao Yingqi are volunteers from the students' union. Li worked as a gatekeeper at the entrance of core tourist areas and Gao was responsible for the university's main entrance. It is stipulated by Wuhan University that only visitors with reservations have access to campus, and that each WHU faculty member and student can bring at most two relatives inside without the need for a reservation. Volunteers are deployed to check identity and maintain order at every entrance.
A visitor with reservation swiping her ID card for authetication
Li Yinglin was given specific responsibility for addressing issues related to visitors' failed authentication. During peak hours, the waiting queue could grow hundreds of meters long and the number of visitors without reservations forcing their way in grew. In these situations, Li Yinglin would explain WHU's policies persistently but politely.
At times, she came across complaining visitors and unexpected situations. Li Yinglin said there, at one stage, a large group of elder people led by a professor claiming to be WHU faculty. Volunteers at first did not allow them in for the leader did not have a verifiable work ID. The professor complained and asked for respect for the elderly. Following a lengthy discussion, she and other volunteers finally let them in for fear of further conflict and a blocked entrance.
At the main entrance, Gao Yingqi came across many visitors without reservation who had come to Wuhan from afar. He usually recommended nearby cherry blossom attractions or asked them to wait until around 5:30 p.m., when entry access control would be lifted.
Gao Yingqi on duty at WHU's main entrance
Gao Yingqi also mentioned scalpers at the main entrance. Since Wuhan University offers free and real-name reservations, fraudsters are swindlers indeed. Gao said they would usually help those cheated visitors find the scalpers to claim refunds. He also said they would sometimes consult with superiors and stretch a point for the cheated if permitted. Gao also mentioned he did encounter rather insolent visitors several times, but he and his companions would simply give them a smile or turn to security guards for help.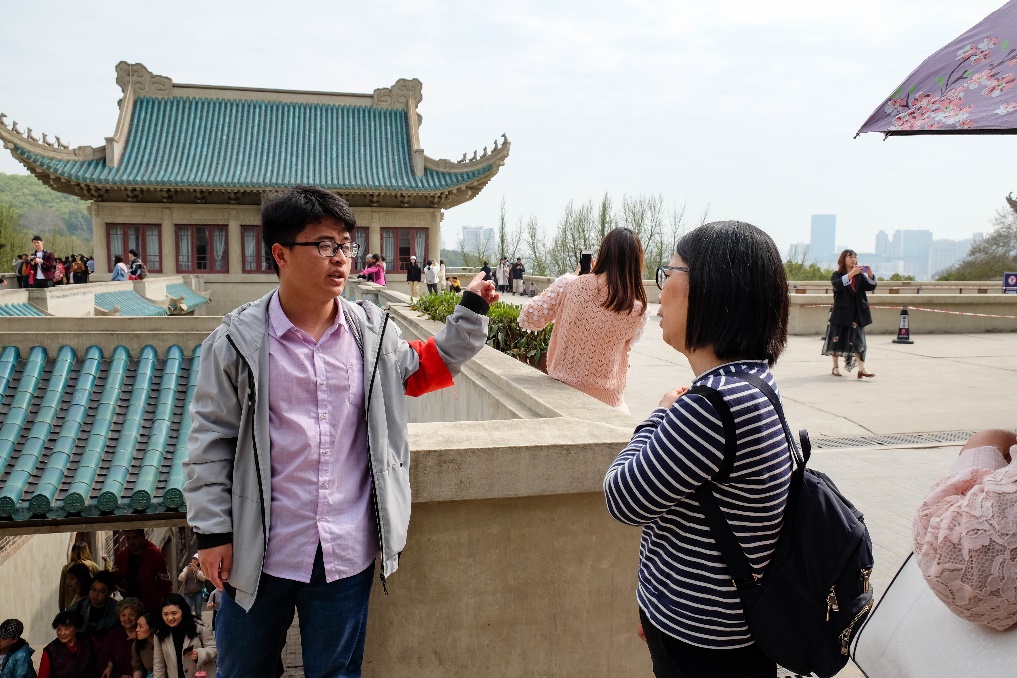 A volunteer answering a visitor's questions
Ping Kaili is a student of WHU's work-study program. She once worked as a monitor preventing wrongdoings, and sometimes as a guide at WHU's famous cherry blossom castle. Having worked 9 hours in a row on some days, she described her work experience as being "though sweaty, also meaningful and pleasant."
It was her duty to prevent defloration, guide lost tourists and answer basic questions patiently. She encountered many different scenarios. "Take one-way notice, for example," she said, "we informed visitors accordingly. Some would say rules could be flexible and refuse to obey, but some would politely thank me for informing them and even educate their children to comply with the rules."
A cherry blossom guardian under cherry blossom trees
In coping with people from all walks of society, Kaili gained experiences that campus life usually does not offer. She also said that it is a good way to meet people with different manners, and helping well-mannered visitors is a great pleasure during the 9 hours on duty.
Ping Kaili also called for a general notification for all visitors, including basic information and the do's and don'ts. In her view, this could improve travel experience and also reduce wrongdoing.
During this year's flowering period also witnessed self-initiated student volunteers collecting rubbish to keep the campus clean. WHU sanitation workers take the main responsibility for this job, and they are usually on duty no later than 7:30 a.m. During peak days, huge population of visitors laid much more burden on them than usual. Therefore, volunteers would come to assist them at 7:50 a.m. every day.
A sanitation worker at the cherry blossom castle
Each volunteer and worker prepared a long clip and a rubbish bag for collecting trash. They walked through the campus and clipped the rubbish visitors had littered along the way. They repeated these movements hundreds of times a day. Some volunteers mentioned that many visitors would consciously collect rubbish and drop it in their bag when seeing us, which was really nice of them and greatly reduced the workload.
A sanitation worker at cherry blossom castle also complimented this year's visitors on their generally good manners. With their cooperation, and also the dedicated devotion of cherry blossom guardians, visitors as well as WHU faculty and students were able to enjoy a wonderful cherry blossom period.
Original Article From: https://en.whu.edu.cn/list.jsp?urltype=tree.TreeTempUrl&wbtreeid=1050
Learn More and Apply: Wuhan University