On June 3, President of University of Chicago, Robert Zimmer, pays a visit to Wuhan University to renew the partnership agreement with Wuhan University's president, Dou Xiankang, and is awarded honorary professorship. Professor Zimmer states that University of Chicago attached great importance to China's development and the cooperation with Wuhan University. Dou mentions that by consolidating cooperation achieved, the two universities will further expand areas of cooperation for fruits of deeper influence.
During this visit, Professor Zimmer is escorted by Janice Ng, associate director of the University of Chicago's Department of International Affairs, Liu Shilin, director of the division of International Cooperation of the School of public policy, Li Yongdi, associate professor of the Department of East Asian Languages and Civilizations, and Jonathan Lio, assistant professor of the School of Medicine. Tang Qizhu, vice president of Wuhan University, Gong Jianya, member of Chinese Academy of Sciences and Dean of the School of Remote Sensing and Information Engineering, also participate in relevant activities.
The morning of June 3 witnesses the signing ceremony of cooperation agreement. Dou Xiankang and Robert Zimmer, presidents of two universities, renew the Memorandum of Understanding between Wuhan University and the University of Chicago, and the Cooperation Agreement on the reform of Medical Education.
President Dou points out that further cooperation in medical education between China and the United States will be carried forward by the two universities in a wider range upon previous cooperative programs. Also, interdisciplinary collaboration is in need and WHU is planning to invite faculties from University of Chicago to give lectures in summer school. He believes that university exchanges are even more important against the tension between two countries. The deep collaboration between WHU and the University of Chicago in terms of mobility, teaching and research can offer young people of both countries a more rational vision towards each other so as to make contributions to universities and higher education. "The University of Chicago has made progress with Wuhan University, and I cherish those achievements. What we have achieved so far marks not an end, but a beginning ", Zimmer said. The University of Chicago encourages teachers and students from different fields to interact with China and participate in its economic and social development. The collaboration between professors has forged a strong bond between the two universities. He notes that the University of Chicago has been proud to give more scholarships to Chinese students in recent years.
In the afternoon, the honorary professorship awarding ceremony for Prof. Zimmer is held. Dou presents the appointment letter to Zimmer. "After witnessing and experiencing the excellence of the Wuhan University, it is a great honor to be an honorary professor in Wuhan University", Zimmer said.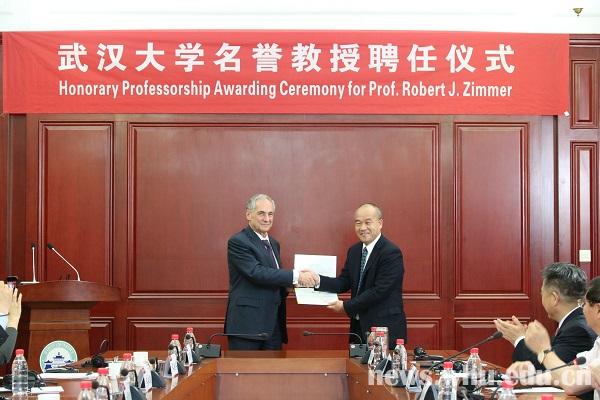 Later, Zimmer gives a lecture entitled "Outstanding University and Holistic Thinking". From his perspective, holistic thinking is the hallmark of a great university. In the report, he explores the relationship between holistic thinking and the outstanding University. He believes that the research environment of an outstanding university should be inclusive and an outstanding university in turn needs to foster and stimulate students' holistic thinking. What types of relationships should be established between universities and other government departments should be taken into account. Cross-cultural understanding is crucial to the comprehension and settlement of global issues confronting different societies. In the Q&A session, teachers and students have discussions on topics of Interdisciplinary Scientific Research, postgraduate training, university ranking, National laboratory etc.
Zimmer also visited the National Laboratory of Mapping and Remote Sensing Information Engineering and the Medical Department.
In the National Lab of Mapping and Remote Sensing Information Engineering, Zimmer and Gong Jianya jointly inaugurated the Joint Research Center of WHU and University of Chicago Social Geographic Computing. Zimmer also watched the "Luojia NO.1" 01 star model.
In the Medical Department, Zimmer participated in the symposium about medical education. In 2008, WHU and the University of Chicago Medical School signed a medical education reform cooperation agreement. Since then, the two sides have continued to deepen the "competency-based" education and teaching reform. Specific fields of cooperative training have expanded from undergraduate education to resident standardized training, specialist training and hospital infection research, which has accumulated experience for the reform of Medical Education curriculum at home and abroad. The monograph series of WHU's Experience in Medical Education Reform have been published in 2019. Zimmer notes that the 11-year cooperation of the two sides proved that the medical cooperation initiated by the two schools is a deep-rooted cooperation. "Improving the curriculum design is a very difficult task, but we did it! "
Brief introduction of joint projects:
1. Medical Education Reform Project
Since 2008, WHU and the University of Chicago have carried out medical education and teaching reform. The two universities have trained 238 graduates in the "five-year US-China Class, conducted more than 300 exchange visits between teachers and students, held more than 80 video conferences, and jointly held two international conferences on medical education. Graduates obtaining the qualification of a medical practitioner once and for all account for 97%. Many students have admitted into top universities such as Yale School of Medicine and Peking Union Medical College.
In 2018, more than 200 teachers from University of Chicago came to WHU for teaching seminars. WHU medical department has sent more than 100 teachers to the United States for 3-6 months of teaching and research activities. The teachers involved in the program have published 220 papers in medical education journals at home and abroad, two of which won the first prize of 100 excellent papers in medical education in China. In 2012 and 2017, WHU and University of Chicago jointly held the International Medical Education Forum and symposium. More than 400 representatives from medical schools in the United States, South Korea, Australia and China attended the seminar.
2. The WHU-UC Geo-computation Center for Social Sciences (GCSS)
GCSS is co-established in January 2018 by Wuhan University, the Center for Spatial Data Science in the University of Chicago and China Index Academy. Its mission is to promote innovative researches in such interdisciplinary fields of geo-computation and socio-computation, so as to construct a theoretic system and platform for geo-socio-computation.
The center takes full advantage of the Wuhan University's strengths in the fields of geospatial information and the University of Chicago's strengths in spatial statistical modeling methods and software. It sets a target to provide a research, consulting and service institution for geo-socio-computation with global influence. Efforts are to be made to promote the application of spatial data research achievements in future scientific researches, education and social practice. ,
The center is currently affiliated to the State Key Laboratory of Surveying, and co-constructed by the Joint Library, School of Remote Sensing and Information Engineering, School of Resources and Environmental Sciences, School of Economics and Management, School of Information Management, School of Mathematics and Statistics, School of Computer Science, the School of Health Sciences and Department of Sociology. The follow-up construction requires further integration of both domestic and overseas advantageous resources.
3. WHU-UC Archaeology Project
Since 2015, a Sino-US archaeologists team with members fromWuhan University, the University of Chicago, Hubei Provincial Museum, Wuhan Institute of Cultural Relics and archaeology, and the Panlongcheng Museum has been carrying out the Panlongcheng joint archaeological project. In this project, Chinese and American scholars focus on the study of Panlongcheng's city settlement and layout, handicraft production, changes in the natural environment, distribution and interaction of regional settlement morphology.
Li Yongdi, professor from the University of Chicago, said the collaboration would shed more light on the lives of ordinary residents of the city, while the previous bronze time archaeological researches concentrate more on the ruling class.
Panlongcheng is a central city in the Yangtze River Basin that came into being in the 16th to 13th centuries when the Central Plains culture expanded southward. It mirrors the development of Chinese civilization in the Yangtze River basin with the Xia and Shang Civilization as its core. The Panlongcheng site is the one with the largest city scale along the Yangtze River and most excavations. It is the center of the bronze civilization of the Yangtze River Basin and it is the root of Wuhan City.
4. Cooperation between Center of Bamboo, Silk and Manuscripts of WHU and the East Asian Department in UC
Center of Bamboo, Silk and Manuscripts of WHU is a key research base for Humanities and Social Sciences Department in Wuhan University and Hubei Province. It focuses on the research of bamboo slips and silk manuscripts unearthed. Since its founding in 2005, it has had a long and close relationship with the Creel Center for Chinese Paleography.
In 2005, Professor Chen Wei and Professor Edward L. Shaughnessy hosted the international forum on Chinese Silk Technology. The "International forum on Chinese Bamboo and Silk Studies 2014" was held at the University of Chicago in October 2014 and was attended by more than 60 international scholars. The center also collaborated with the University of Chicago and the Hubei Provincial Museum to hold the "International symposium on bamboo slips and silk manuscripts unearthed in Hubei". In 2006, the Center launched its academic journal, Bamboo and silk. In 2018, the center issued an English-language journal, Bamboo and Silk, whose editors are professors Chen Wei and Edward L. Shaughnessy, with Li Tianhong as executive editor and Professor Xia Dean as editorial board member.
Original Article From: https://en.whu.edu.cn/list.jsp?urltype=tree.TreeTempUrl&wbtreeid=1050
Learn More and Apply: Wuhan University