SMU News, November 21 On the afternoon of November 20, Professor Serge Haroche, the 2012 Nobel Prize winner in Physics, from the University of France, came to SMU to delivery the third lecture of the series of academic lectures of "Dialogue with Masters-- Winners of International Academic Awards 2018 in SMU". Prof. Zeng Ming, president of SMU, Prof. Ding Keyi, vice president of SMU, leaders from International Cooperation and Exchange Office and School of Electrical and Information Engineering, and more than 300 teachers and students attended the lecture.
On behalf of all teachers and students of SMU, President Zeng Ming extended a warm welcome to Prof. Serge Haroche. He said that the Nobel Prize master is a symbol of science and wisdom and that the reason for human development and progress is standing on the shoulders of giants, hoping that everyone will respect science and uphold truth.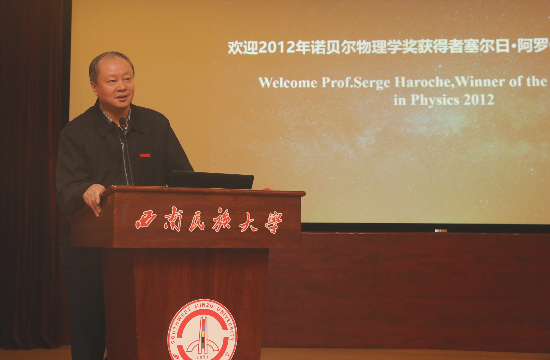 Subsequently, Prof. Serge Haroche gave a special academic report entitled "From basic to applied science: the history of some great discoveries and inventions", describing the close relationship between science and applied technology; He reviewed how the basic theory of physics, microwave radio, X-ray imaging, nuclear magnetic resonance, atomic clock and GPS have been discovered and produced from 1865 to present, as well as their effects and significance to modern society. At the same time, the theory of discovering and inventing the important way of modern technology is explained in detail by him.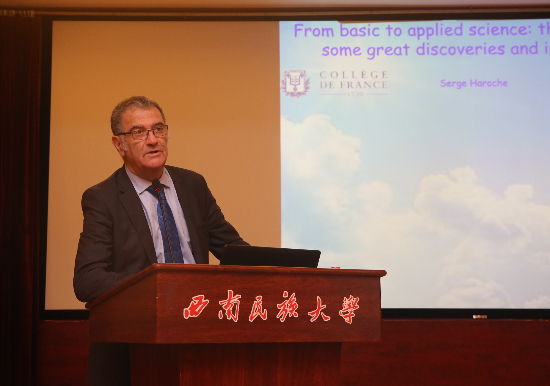 With his profound knowledge, rich academic achievements and unique academic opinions, Prof. Serge Haroche has brought a splendid feast of academic exchange for teachers and students of SMU, which has been highly appraised by the teachers and students of SMU.
Original Article From: http://english.swun.edu.cn/News.htm
Learn More and Apply: Southwest University for Nationalities