A breakthrough titled with "Compartmentalized Biosynthesis of Mycophenolic Acid" on the biosynthesis mechanism of the first-line drug mycophenolic acid has been published online atProc. Acad. Natl. Sci. U.S.A.on Jun. 17th, 2019. The new progress was achieved in Enzyme Engineering Group directed by Li Shengying of State Key Laboratory of Microbial Technology,SDU. Prof. Li is the only corresponding author, and Prof. Zhang Wei acts as the first author. State Key Laboratory of Microbial Technology of SDU is the second corresponding affiliate.
Mycophenolic acid (MPA) from filamentous fungi is the first natural product antibiotic to be isolated and crystallized, and a first-line immunosuppressive drug for organ transplantations and autoimmune diseases. However, some key biosynthetic mechanisms of such an old and important molecule have remained unclear. The MPA biosynthetic pathway that features both compartmentalized enzymatic steps and unique cooperation between biosynthetic andβ-oxidation catabolism machineries is elucidated based on targeted gene inactivation, feeding experiments in heterologous expression hosts, enzyme functional characterization and kinetic analysis, and microscopic observation of protein subcellular localization.
Besides identification of the oxygenase MpaB' as the long-sought key enzyme responsible for the oxidative cleavage offarnesyl side chain andthe enzymatic mechanisms,the intriguing pattern of compartmentalization for the MPA biosynthetic enzymes is revealed, including the cytosolic polyketide synthase MpaC' and O-methyltransferase MpaG', the Golgi apparatus-associated prenyltransferase MpaA', the endoplasmic reticulum-bound oxygenase MpaB' and P450-hydrolase fusion enzyme MpaDE', and the peroxisomal acyl-CoA hydrolase MpaH'.The whole pathway is elegantly co-mediated by these compartmentalized enzymes,and the subcellular localization of the acyl-CoA hydrolase MpaH' in peroxisomes is required for the unique cooperation between biosynthetic andβ-oxidation catabolism machineries.
Beyond characterizing the remaining outstanding steps of the MPA biosynthetic steps, this work highlights the importance of a cell biology perspective for understanding the unexplored organelle-associated essential catalytic mechanisms in natural product biosynthesis of fungi and other higher organisms. The insights gained in our study will benefit the future efforts for both industrial strain improvement and novel drug development.
This work also indicates that the compartmentalized biosynthesis of fungal natural products demands much more attention in the future since only very limited knowledge about the subcellular localization of fungal biosynthetic enzymes and their involvement in product formation and intermediate trafficking has been learned so far.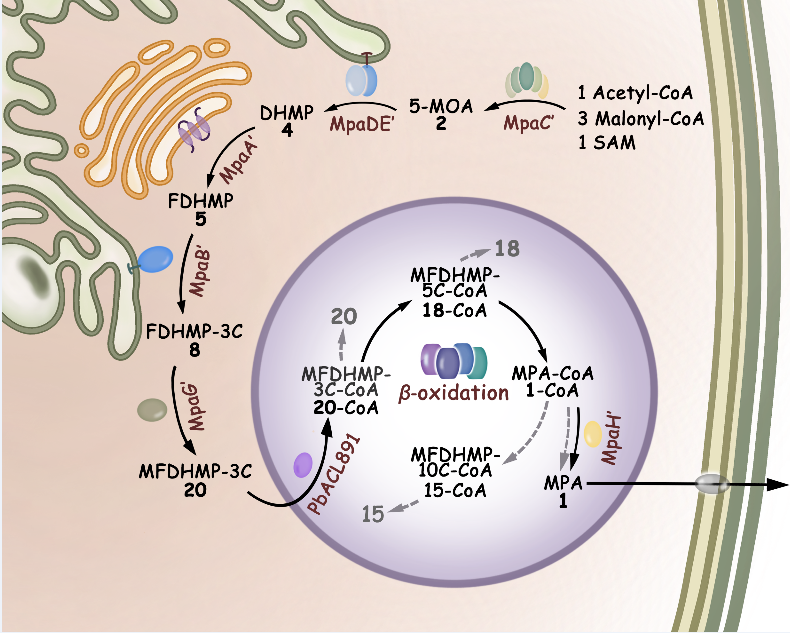 Schematic compartmentalized MPA biosynthesis
Research work was supported by the Outstanding Scholar Funding and the Qilu Youth Scholar Startup Funding of SDU, and the National Natural Science Foundation of China.
Original Article From: http://www.en.sdu.edu.cn/News.htm
Learn More and Apply: Shandong University