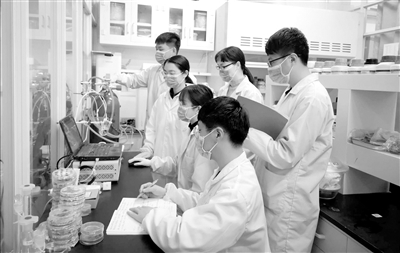 For some of Wuhan University's students, there stands a "most beautiful station" along their journey—the "Laboratory of Advanced Nanomaterials". These students' shared supervisor, Professor Fu Lei, is a Doraemon-like guardian who offers both timely support and enduring kindness.
These students have given their lab the alias LAN, which is short for "Laboratory of Advanced Nanomaterials", and they call themselves "LANers". As odd as this name may sound - for its Chinese homophone suggests "lazy guys"- these LANers, with their strong sense of belonging, all sport amazing achievements. In the single year of 2018, this lab witnessed the publication of 16 papers in world-renowned academic journals with an impact factor greater than 10; and a large number of SCI papers written by undergraduate before graduation, recipients of the first prize and the special prize in the "The Challenge Cup, two LuoJia Feng Yun Students, and two Academic Stars.
LAN was established on February 6, 2012, by its chairperson, Professor Fu Lei, who is a Changjiang Scholar and the recipient of the outstanding youth fund of the National Natural Science Foundation of China.
The laboratory focuses on research of controllable growth of two-dimensional materials and their applications in the field of electronic information and energy. The team upholds such principles as spirit of curiosity in the exploration of micron-nano; undertaking interesting research with current and later-stage applicability, enjoying a simple and creative life, and unraveling the secret of graphene through joint efforts and good cooperation.
"My students are creative, and sometimes they even astonish me." The magic stationmaster Fu Lei comments on his passengers.
The ladder of improvement
"Can you endure hardship? Can you persist?" If you can give an affirmative answer then your enthusiasm and tenacity can be your passport to LAN to conduct further scientific research.
In 2017, the undergraduate team "LAN For Dream" won the special prize of the 15th "The Challenge Cup" National College Student Extracurricular Academic Science and Technology Works Competition, and that was the first national special prize in the history of WHU. Eight members of the team were all from LAN.
The team leader, Wang Chenxiao was an undergraduate in 2014, and he entered LAN as a freshman. Since September 2016, under the guidance of Fu Lei, the scientific projects of Wang Chenxiao and other undergraduates ave progressed smoothly, and they gradually formed a complete team.
"Every Monday to Friday after finishing classes at 9 pm, I went to the lab and rushed back before the dormitory closed. What's more, I often spent my weekends in the lab." Wang Chenxiao acknowledged. The team contributed to the "Natural Science Papers" of the "Energy Chemical Group". The number of papers published and the influence of the papers are the essential factors in determining whether or not they can win the award.
The preparation process was tense and tough but, fortunately, it paid off. The team published four high-level academic papers as the first author, including one in American Chemical Society (influence factor 14.357), one in German Applied Chemistry (influence factor 12.101), and two in Materials Chemistry (influence factor 9.890). With the fruitful accomplishment and the support of WHU, "LAN For Dream" finally came true.
It is quite a challenge for undergraduates to publish papers in top academic journals in the field of chemistry. "If you merely offer general instruction on the trends of projects and the publication of papers, undergraduates will be at a loss." During the entire preparation process, Fu Lei always accompanied the LAN team, and held weekly meetings to guide students to complete experiments and papers step by step. It is just a green hand helping students in the scientific field to grow.
"Like a jigsaw puzzle, I encouraged them to work step by step. Gradually the image became clear, and the work slowly took shape." This is the method Fu Lei uses when guiding undergraduates in research practice: Firstly, let the student do the easiest job, allowing him /her unconsciously to get closer and closer to the goal, "to make the steps as thin as paper, so that the student can make progress every day and continuously get positive feedback."
Fu Lei emphasizes desire and concentration when selecting students. In his view, these two attributes determine how well a student will execute scientific research. "If a student's desire and concentration is present, then I think he/she can become a qualified researcher." He hopes that after several years of training in the lab, students will be able to master the ability to identify and solve problems (CTO), and, on the other hand, they can improve their ability of exchanging academic accomplishment and displaying results (CFO) to commence another journey full of enthusiasm.
Never give up
Failing in experiments is common. You can never fail to meet some sorrowful students in the lab building of the College of Chemistry and Molecular Sciences.
"Instead of getting the perfect expected result, getting an unexpected one might be more meaningful." Fu Lei is very good at motivating his students in a positive way. His words are encouraging in two aspects: first, it is more significant for researchers to broaden the cognitive system of human beings than consolidating the existing system. Imagine that you are the first of the seven billion people in the world who get such experimental results. How exhilarating it is! Second, the results of "failure" may bring about more important findings.
Fu Lei's words signal that scientific research is a journey full of frustration and persistence. Not long ago, the students in the lab did a photolysis experiment which took them two months and over 100 reactions to complete. In the end, they got a few milligrams of two-dimensional material, but unfortunately they were all destroyed after being sent to the test. Everyone felt desperate and thought that the experiment would definitely not be completed; some even decided that they would not continue wasting time on experiments. However, the love for scientific research and the resilience against dissatisfaction encouraged everyone: "There is nothing worse than starting all over again, but please work hard, and go for it!" So, the members insisted on working day and night for another two months, and finally the result was turned into paper and published in Advanced Material.
This group is the famous "Battery Four" of LAN. "Battery Four" consists of four girls who specialized in battery research. They are Zhang Qin, a graduate student in 2013, Wang Wenzhao, a graduate student in 2016, and Zhu Xiaohui and Zhang Jiaqian, both graduate students in 2017. Working together, they seek to contribute solutions to the battery research area.
"Battery Four" is a good model within LAN, however, they also experienced a long and tough period at the beginning.
In 2013, Zhang Qin moved Fu Lei with the words "I will prove myself by action" when attending the interview set for external school students. The first two years, she was accompanied by an airtight gas mask and smelly hydrogen sulfide, but never published a paper. The seemingly hopeless situation made her doubt her choice. Fu Lei admired her unwillingness to accept failure and and encouraged her to continue to study for a Ph.D.. Other team members are also often troubled by their own problems, and stay up late.
Now, even though four people are working on separate projects, they still work together to help each other to tackle problems at a critical stage, but do not care about the author's ranking. Now, Wang Wenzhao takes what she has learned from Zhang Qin, including how to help others to relieve stress, how to lead the junior sisters to express their opinions and conceive the projects, to let the story of "Battery Four" continue.
The best way to pass on knowledge is share out of a sense of respect and responsibility, which can be an endless source of never-ending strength.
Slasher
Good student, party branch member, and national second-level athlete…The 2018 Master's student Ding Yiran describes himself as a "Slasher". His expertise is good time management and efficiency. "Actually, we LANers are a group of slashers, "Ding says
"Slasher" refers to Slash in the book "Double Occupation" written by New York Times columnist Merrick Arber, and refers to a group of people who no longer adhere to the idea of a "specialized career" and choose to have multiple occupations and identities instead. "Slasher" refers not only to those who have multiple identities and multiple incomes, but it also represents a new life value, and the core lies in diversified life.
LAN's title- "Advanced Nanomaterials Laboratory of WHU", were written by LAN graduate students, undergraduates and Fu Lei, with the meaning that "The lab is LANer's and her future is in the hands of all LANers". The culture of LAN can be attributed to 6 words: everyone loves, everyone builds, everyone inherits.
"Laboratory layout, website design, daily management, and events organization are the responsibility of all LANers." LAN housekeeper Zeng Mengqi introduced, "In line with each person's personality and specialty to contribute to public affairs, we can enhance everyone's familiarity and the sense of belonging."
Everything like general affairs, finance, hygiene and so on is handled by a specific person. They undertake their jobs as a responsibility towards public affairs and maintain the normal operation of the lab. "LAN is very cohesive, and LANers do their jobs properly," Liang Xiaoyang, a senior undergraduate student who has been recommended to Peking University, said. "It is like different body parts, with a head, hands and so on, combining to form a complete, awesome person."
LAN's 2017 Best Leader and 2014-level Master Zhang Tao often went to the School of Life Sciences to attend classes. Zhang Tao believes that the mastery of single professional knowledge is far from enough for a researcher. The interest in computer science, physics, biology and other disciplines has greatly helped his development in the field of chemistry. In order to accelerate the speed of processing experimental data, he learned by himself to code a set of procedures, which greatly improved the efficiency of scientific research.
"High-level articles are always the sparks of cross-cultivation of various subjects." Zhang Tao once did a project involving the associated growth of two two-dimensional materials, which reminded him of the symbiosis between plants and animals: lichens and moss, crocodiles and toothpick bird. Inspired by these phenomena, he talked about a deep and interesting research story, and the related results were published in Nature News.
"The value of scientific research is difficult to assess in the short term, but the pleasure of exploring the unknown is always there, and it gradually becomes more fascinating as the cognition deepens. The satisfaction gained by obtaining the truth is the beauty of thinking that can satisfy oneself." Fu Lei's words allow a glimpse into the minds of LAN's stationmaster and passengers who are clinging to scientific research.
Original Article From: https://en.whu.edu.cn/list.jsp?urltype=tree.TreeTempUrl&wbtreeid=1050
Learn More and Apply: Wuhan University