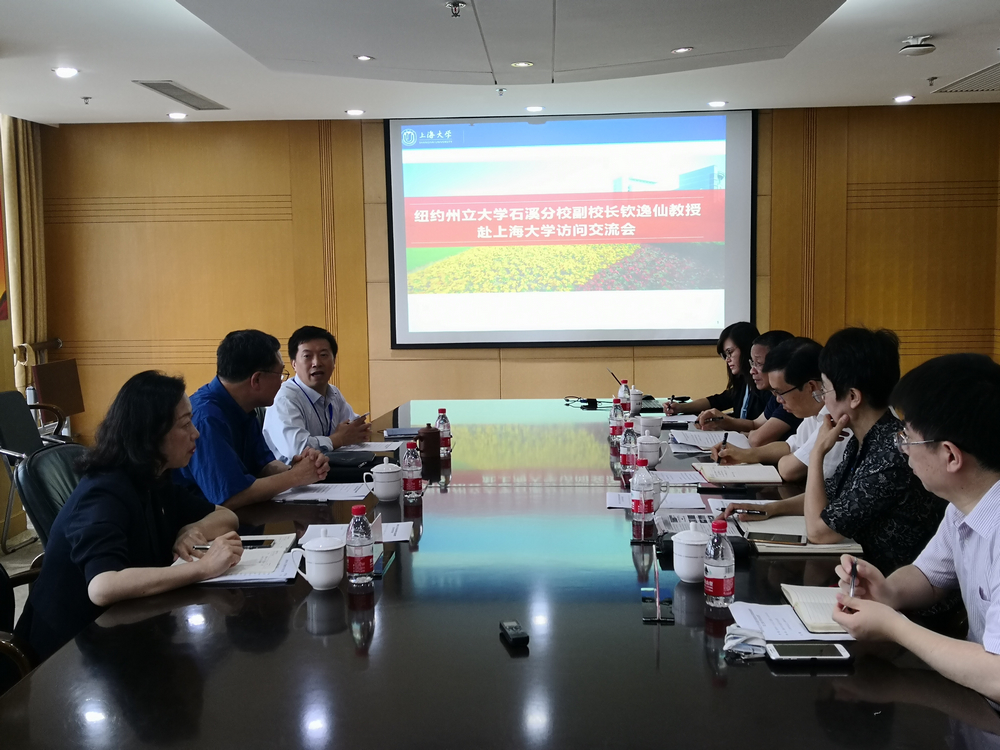 Professor Yi-Xian Qin, Executive Vice President of the State University of New York at Stony Brook (SBU), visited SHU on July 16. SHU's President Liu Changsheng, Party Committee Deputy Secretary and Vice President Gong Siyi met the guests at the Baoshan Campus of SHU. Zhu Jian, Secretary of the Party Committee of the Medical School (under preparation), Xu Jinlian, head of the Medical School construction project, Cui Wei, Deputy Director of SHU Global and Director of the Cooperation Division, Yin Jingbo, Dean of the Residential College, and Wang Yanli, Director of the Precise and Targeted Tumor Research Center, attended the meeting, too.
On behalf of SHU, Liu Changsheng extended warm welcome to the visiting guests, and briefed them about SHU. Yi-Xian Qin detailed the history of SBU as well as the arrangement of schools and departments, scientific research and faculty, with the focus on the information, disciplines and research results of the engineering school and the medical school. Gong Siyi talked about the initial intention and ideas about the cooperation on school running, international exchanges and talent introduction. Cui Wei and Xu Jinlian respectively introduced the work related to internationalization and construction of the Medical School of SHU. Finally, both sides had in-depth discussions, considering SHU and SBU are highly complementary to each other and enjoy extensive room for cooperation, and agreeing to advance win-win cooperation in high-level discipline construction, student training, talent exchanges and platform construction, and sign a framework agreement about cooperation as soon as possible to implement relevant programs.
Founded in 1957, SBU is among the four centers in the state university system of New York and one of the 62 members of AAU, and enjoys the reputation as a public ivy university. SBU comes second among US public universities by the capability in scientific research, with many disciplines ranking among the top in the US, such as biochemistry, computer science, engineering science, mathematics and physics. SBU gathers top researchers in a range of fields. Chen-Ning Yang, the famous nuclear physicist and Nobel laureate in physics, had taught there for 37 years. The world's first nuclear magnetic resonance picture was taken there. Since its establishment, SBU has trained three Nobel Prize winners, one Turing Award winner as well as Fields Medal, Wolf Prize and Abel Prize winners.
Original Article From: http://en.shu.edu.cn/news/index
Learn More and Apply: Shanghai University