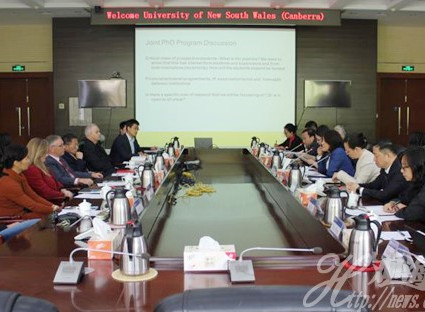 On May 10, a University of New South Wales (Canberra) delegation led by David Lovell, Director of International Affairs and Prof. Wang Xiaohua, Director of the Sino-Australian Research Center for Coastal Management (SARCCM), visited Ocean University of China (OUC) and participated in a ceremony celebrating the tenth anniversary of the cooperative agreement between the two universities. Vice President Yan Ju of OUC met with the guests in the library conference room and the two sides exchanged their views on future cooperation
Vice President Yan extended a warm welcome to the delegation and discussed the remarkable results achieved over a decade of collaboration, especially through SARCCM. In the future, the two sides plan to focus on the research of Jiaozhou Bay to integrate the ecological development of the bay with the development of the city, in order to facilitate Shandong's effort in becoming a strong maritime province. In terms of student cultivation, the two sides will enhance cooperation in the field of marine science and should also explore cooperation in economics, management and law, to build a platform for interdisciplinary cooperation and exchange. Finally, Vice President Yan extended a sincere invitation to professors at the University of New South Wales (UNSW) to teach at OUC.
Director Wang Xiaohua thanked the university for its warm welcome. He recalled the fruitful results that have been achieved since the partnership was established, and expressed his high expectations for future cooperation. He said that in the past ten years, the two sides had had many close exchanges: 45 Chinese undergraduates have been funded by CSC to study at UNSW, and 30 of them have participated in a UNSW-OUC joint program. SARCCM has also achieved impressive results, with papers published in internationally prestigious academic journals. He hoped that the two universities could further strength their cooperation through educational exchanges and joint research, and could work towards the establishment of joint training programs for doctoral students.
SARCCM is an international research institute jointly established by OUC and UNSW. It is a cross-disciplinary research platform for liberal arts and sciences, conducting comparative research and giving consideration to both theoretical research and applied research. Since its establishment in 2010, SARCCM has held an annual OUC-UNSW Collaborative Workshop and has participated in international cooperative research projects. It has also made important contributions in the development of Jiaozhou Bay and in the management of Darwin Harbour.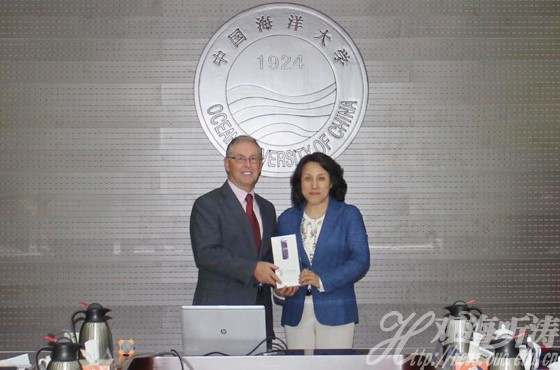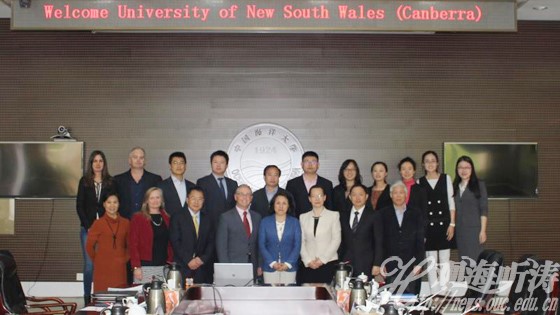 Original Article From: http://eweb.ouc.edu.cn/news/list.htm
Learn More and Apply: Ocean University of China