The Visit to Our Second Affiliated Hospital by Valerie Egloff, Deputy Mayor of Le Havre, France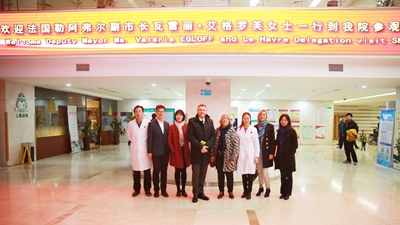 In the afternoon of November 28, Valerie Egloff, deputy mayor of Le Havre, France, visited the Second Affiliated Hospital of DMU, with Vice President Wang Qi met with the Deputy Mayor and other members of the delegation in the first meeting room. Both parties exchanged views on the medical and health cooperation between China and France.
Wang Qi spoke highly of the friendly relations between Dalian and Le Havre, as well as the great efforts made by the two municipal governments in supporting medical and health development. Over the past three years, the hospitals on both sides have had successfully exchange visits, with geriatric medicine as an entry point, in an effort to achieve mutual benefits and win-win results in geriatrics Cooperation. In the future, the two hospitals will continue to advance the level of medical cooperation. Egloff said that medical care for the aged was an important component and the common responsibility of the two cities and the two countries. She was pleased to see the Hospital's great promotion efforts made in the two cities' medical and health cooperation, hoping that the two sides will take this cooperative opportunity as a starting point to step up the efforts in training medical personnel at all levels in various fields, in order to promote the medical exchange in geriatric diseases and in the integrated treatment and convalescence, and to deepen mutual understanding and friendly relations.
Original Article From: http://english.dmu.edu.cn/News_Events.htm
Learn More and Apply: Dalian Medical University