On May 22, 2019, Deputy Vice-Chancellor Iain Watt of the University of Technology Sydney (UTS) led a delegation to Ocean University of China (OUC). OUC's Vice President Li Weiran received the guests in the Xingxuan Building, and the two sides engaged in a discussion about joint education.
After expressing his welcome to the delegation, Vice President Li gave an overview of OUC's history, disciplinary strengths and research progress. He said that OUC, a key comprehensive university with a wide range of disciplines and particular strengths in oceanography and fisheries, adopted three strategies for development, in which internationalization constituted a very important part. OUC had conducted multi-dimensional and multi-level cooperation with higher education and research institutions around the world in talent cultivation and scientific research. He expressed the hope that OUC, which had developed good cooperative relations with many Australian universities, could initiate cooperation of various forms with UTS in many fields to promote common development.
Deputy Vice-Chancellor Iain Watt extended his thanks for the warm reception and gave an introduction to UTS. He said that though UTS was a young university with a history of less than fifty years, it had great strengths, ranking No.1 in terms of the social impact of research in Australia according to a survey conducted by the Australian government. He elaborated on the university's Faculty of Engineering, with six schools, one innovation and entrepreneurship center and several research centers on quantum computing, big data, AI, machine learning and deep learning. He noted that the achievements made in robotics and drone monitoring had been put into application, and great efforts had been made to promote the cooperation between UTS and Chinese universities. He expressed the expectation that OUC and UTS could establish a joint laboratory and cooperate in research and joint education.
Prof. Dong Junyu, Deputy Dean of the College of Information Science and Engineering, gave an overview of the college's research progress and international cooperation, and expressed his hope to launch "3+1" joint undergraduate program and "3+2" joint postgraduate engineering program. He also suggested that in such areas as AI research, mutual visits of faculty and students could be promoted and joint seminars could be held.
The meeting was also attended by Mr. Li Xinqing, President of Australia Education Management Group. Prof. Song Wenhong, Director of the International Office, moderated the meeting. Also in attendance were representatives from the International Office, the College of Information Science and Engineering and the School of International Education.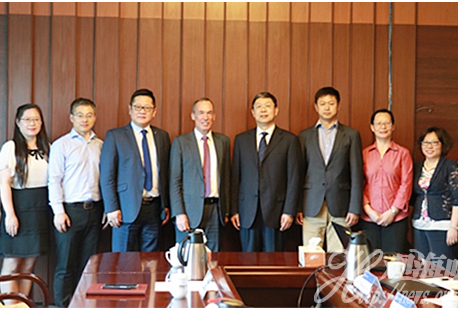 Original Article From: http://eweb.ouc.edu.cn/news/list.htm
Learn More and Apply: Ocean University of China