On December 14, a University of Arizona (UA) delegation led by the Provost Prof. Andrew Comrie, Prof. Suzanne Panferov, Vice President for Global Affairs, and Prof. Marc Miller, Dean of the Law School, visited OUC. President Yu Zhigang met with the guests in the first conference room of the library on Laoshan Campus. The two sides engaged in a discussion about the joint law program and possibilities of further cooperation.
President Yu extended his welcome to the UA delegation. He said that fruitful results have been achieved since the partnership was established. Since September 2015, the joint law program has recruited nearly 300 high-caliber students, who they have provided with an excellent education with an international perspective. Such success has been made possible by the joint efforts of the law schools of the two institutions. President Yu hoped that during his visit, Provost Comrie would provide further guidance on the running of the program so as to ensure its future success.
President Yu also pointed out that the joint law program has laid a solid foundation for expanding bilateral cooperation. As OUC has been included in China's plan of building world-class universities, it seeks to engage in close partnership with top universities around the world. Cooperation with UA in its areas of strength – including in optics, geology, information science and business – will facilitate OUC's development of its fundamental disciplines. President Yu suggested that the two institutions could alternate the hosting of joint academic seminars in order that professors of both sides could exchange ideas and cooperate in increasingly integrated ways, something that OUC would staunchly support.
Provost Comrie thanked OUC for its warm welcome. He said that the two sides have built a close partnership which has enabled frequent exchange visits of students and faculty. The joint law program has created an innovative mechanism which is beneficial for the improvement of teaching and the building of an internationalized course system. He was glad that some visiting students from OUC had achieved outstanding academic grades at UA and had adapted quickly to the new study environment.
Prof. Liu Huirong, Dean of the OUC College of Law and Political Science gave an overview of the development, faculty, goals and progress of the joint law program. Prof. Wang Zhuquan, Deputy Dean of the College of Management, Prof. Chen Shifa, Deputy Dean of the College of Foreign Languages, and Prof. Yin Ying, Deputy Director of the Department of Arts, introduced their own areas of teaching and research, and engaged in discussions with their UA counterparts.
After the meeting, the delegates visited the Shandong Key Laboratory of Ocean Engineering in the College of Engineering. They also visited the College of Law and Political Science and met with the faculty and students of the joint law program.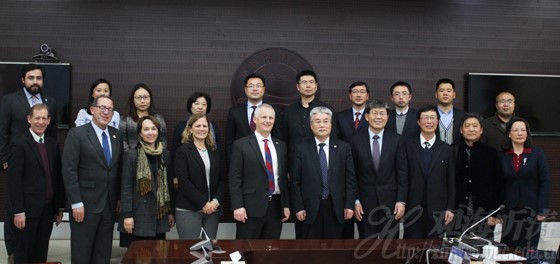 Original Article From: http://eweb.ouc.edu.cn/news/list.htm
Learn More and Apply: Ocean University of China