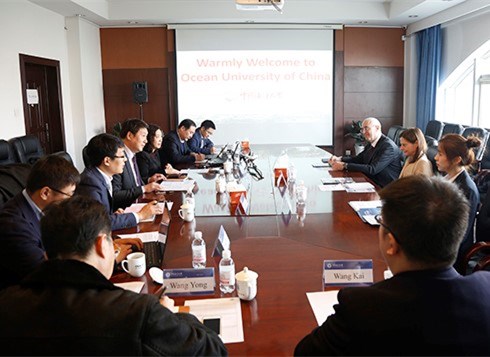 On February 20, 2019,Prof. Susanne Leist, Vice President of the University of Regensburg (UR), and Prof. Werner Kunz of the Institute of Physics and Theoretical Chemistry visited Ocean University of China (OUC). OUC's Assistant President Yu Li received the guests in Xingyuan Building, Laoshan Campus.
After expressing his welcome to the delegation, Assistant President Yu gave an overview of OUC and its international cooperation and exchanges. He said that OUC's being included in China's plan of building world-class universities in 2017 brought about new opportunities, and that the construction of the new campus in Qingdao's West Coast New Area created greater prospects for its development. He noted that OUC was looking forward to more exchanges and cooperation with UR, a prestigious institution in Germany.
Vice President Susanne Leist elaborated on UR's faculties and academic achievements. She said that the institution, with natural sciences as its strengths, had attached great importance to the students' all-round development by offering rich learning resources and opportunities of international exchanges. She expressed her hope that UR and OUC could sign an MOU on joint education programs, offering students of both sides more opportunities of studying abroad.
Prof. Tang Qingjuan, Deputy Director of OUC's International Office, moderated the meeting. She gave an overview of the institution's internationalization strategy and achievements of international exchanges. Prof. Qin Shanghai, Dean of the School of International Education, gave an introduction to international student programs and the English course system. Prof. Dong Junyu, Deputy Dean of the College of Information Science and Engineering, and Mr. Wang Kai of German Department in the College of Foreign Languages gave an overview of their disciplines, courses and international programs. They also expressed the hope for student exchanges and research cooperation between OUC and UR.
Prof. Werner Kunz gave an introduction to his institute's research achievements in sustainable and applied chemistry, especially its success in commercializing research findings. Assistant President Yu elaborated on OUC's technology transfer, particularly the progress in marine drug research. He also spoke of OUC's plan to establish an innovation industrial park in expectation of closer cooperation with UR.
The two sides discussed cooperation details in depth. Also in attendance were Prof. Xu Derong, Director of Translation Office affiliated to OUC's International Office, and representatives from the College of Information Science and Engineering and the School of International Education.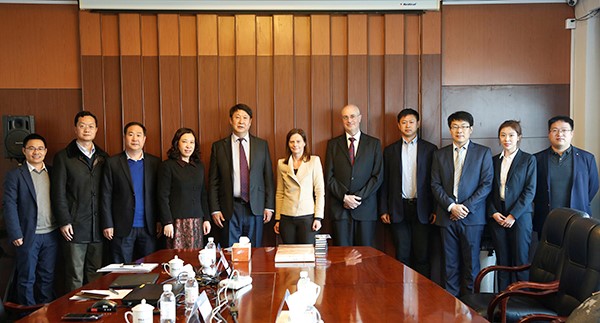 Original Article From: http://eweb.ouc.edu.cn/news/list.htm
Learn More and Apply: Ocean University of China