On June 21, Wuhan University signed a strategic cooperation agreement with Huawei Technology Co. Ltd. With the goal of "joint innovation, collaborative education and common development", the two sides will put into full play the advantages of relevant disciplines, technologies and talents. Alsomore comprehensive cooperation will be carried out in the fields of scientific research, personnel training and intelligent campus construction to forge ahead toward a sustainable, stable and close relationship.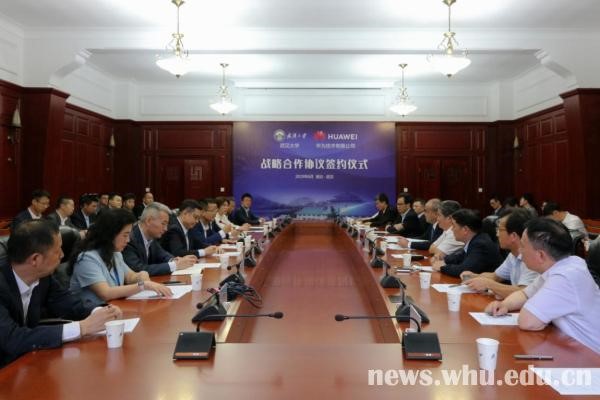 The signing ceremony is attended by Cai Yinghua, Huawei EBG China President; Li Tongguang, Huawei EBG China Vice President; Qi Zhen, Huawei Hubei General Manager; Ding Shengshuang, Huawei Hubei Deputy General Manager and General Manager of Enterprise Business; Li Zhangting, Hubei Unicom General Manager; Qin Sheng, Vice General Manager; Han Changshan, Wuhan Unicom General Manager; Dou Xiankang academician, President of Wuhan University; Tan Guangming, Executive Vice President and Li Chengjian academician, Vice President.
Cai Yinghua and Dou Xiankang signed the Strategic Cooperation Agreement between Huawei and Wuhan University, Qi Zhen and Li Jiancheng signed the Cooperation Agreement between Huawei and Wuhan University on the Training of Innovative Talents, and Qi Zhen, Qin Sheng together with Li Jiancheng signed the 5G Cooperation Framework Agreement among Huawei, Hubei Unicom and Wuhan University on behalf of three parties.
Dou Xiankang appreciates for Huawei's long-standing supports for Wuhan University. He said that as a well-known high-tech company, Huawei has been focusing on the improvement of technological innovation ability with widely acknowledged achievements in innovation and R&D. As a "Double First-Class" university, Wuhan University will take full advantages of personnel training, scientific research and other aspects for providing more talents of higher quality for innovative enterprises such as Huawei, and this will lay a solid foundation for the future development of science and technology in China.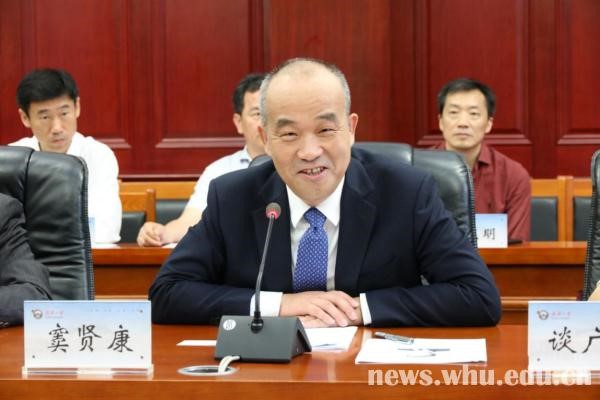 Cai Yinghua mentioned this signing appears to be extremely special on the day Wuhan University holding its grand commencement ceremony. Past decades have witnessed the fruitful and extensive cooperation between Huawei and Wuhan University in scientific research, personnel training and recruitment, as well as the construction of smart campus. The two sides will carry out 5G strategic cooperation with Hubei Unicom to explore new application scenarios and cooperation modes of 5G upon further bilateral cooperation. This agreement is believed to realize advantageous complementarities and lead to a more ambitious future.
Li Zhangting said that Wuhan University, Huawei Company and Hubei Unicom will launch a pilot smart campus scenarios based on 5G network, and a consensus is built on high-quality resource sharing, innovation of teaching paradigm. Smart campus management with the 5G smart campus cooperation program is laying a good foundation for the construction of 5G smart campus. Hubei Unicom will spare no effort to build "5G Joint Innovation Laboratory" into a leading one with certain influence nationwide.
According to the agreement, the two sides, in the principle of "complementary advantages, voluntary equality, openness and fairness, mutual benefit and win-win cooperation", will collaborate in planning and construction of smart campus, transformation of high-level scientific research and achievements, joint talent training and recruitment, overall strategic cooperation based on AI, building first-class high-performance computing platform, 5G innovation and so forth. Huawei will play a role in introducing advanced information planning and designing methods, formulating top-level design of Wuhan University's smart campus, and completing the general plan for future evolution. The discipline strength of information science in Wuhan University will boost the co-establishment of laboratories to support the research-to-industry transformation. Huawei is incubating world-leading innovative talents in ICT (Information and Communication Technology) with the help of Wuhan University's information, intelligence and other disciplines. Based on the school's existing supercomputer center, the two sides will construct a first-class domestic supercomputer platform together. Huawei and Unicom deploy the first batch of 5G network-covered smart campuses in Wuhan University, build a 5G joint innovation laboratory, and incubate 5G industry application etc.
Huawei, a globally famous science and technology group, has carried out a series of collaboration with Wuhan University. Since 2015, Huawei has recruited 1098 fresh graduates from Wuhan University, and this number reaches 437 in 2019. Huawei has signed a cooperation agreement with the School of Computer Science on innovative talent training center,with its priority to resource in artificial intelligence research. Talent trainning internship opportunities and recruitment are provided For scientific research, Huawei and Wuhan University have cooperated in more than 40 projects in the fields of geodesy and geomatics, remote sensing, software, basic hardware and security since 2013. In addition, the two sides jointly built the "Innovation Laboratory of Space Information Technology" with Wuhan University's scientific research strength in surveying, mapping and remote sensing.
Original Article From: https://en.whu.edu.cn/list.jsp?urltype=tree.TreeTempUrl&wbtreeid=1050
Learn More and Apply: Wuhan University