The Duke-UNC China Leadership Summit (CLS), North Carolina's annual Sinosphere grand gathering, which is now in its ninth year, was held jointly by Duke University and the University of North Carolina at Chapel Hill from March 22-24, 2019. Student journalists from the WHU Student Correspondent group Li Yunzhen (School of Economics and Management, '19) and Wei Yena (School of Foreign Languages and Literature, '19) attended the summit on behalf of Wuhan University.

The three-day summit, themed China's New Norms, comprised five keynote speeches, seminars as well as networking and social events. The speeches and seminars explored the trends that define major changes in China's development and actions across the world, including dynamics in U.S.-China trade relations and the economic interdependency, geopolitical shifts in East Asia, media in China, the Belt and Road Initiative, and so on. Five keynote speeches were presented by professors of economics and politics, political observers and experts from related fields.
The 2nd keynote speech, presented by Virginia A. Kamsky, founder of one of the first approved foreign advisory firms in China, who owns 40 years of extensive experience in Sino-U.S. collaboration.
As WHU delegates, Li Yunzhen and Wei Yena were joined by students and scholars from universities across the United States. In addition to Duke and UNC-Chapel Hill, students from more than 30 institutions of higher learning, including Yale, Harvard, Columbia, Stanford, Johns Hopkins, NYU-Shanghai, and Tsinghua attended the conference in the past. Duke Kunshan University (DKU), which is a Sino-American partnership between Wuhan University and Duke University, also sent 12 delegates to the conference who were selected from the first class of undergraduate students in DKU.
Group photo of the delegates, West Campus, Duke University
"American students' passion and enthusiasm for Chinese affairs impressed me." said Wei Yena, "About half of the delegates are of Chinese origin or have been to China before, which provided them with a vantage point to look at the differences of development pattern and policy-making between the U.S. and China." she added. "Their interest even extends to China's energy, sustainability, trade, international relations and some cutting-edge issues. I'm proud to see China play a bigger role on the global stage. It also shows me what an 'international outlook' is like, which inspires me, as an English major and a journalist, to think and write with a global perspective. It's definitely a rewarding and fruitful experience for everyone."
The Duke-UNC China Leadership Summit was founded in 2010. It is completely organized and run by undergraduates from Duke University and the University of North Carolina. Summit directors Sally Wang (Duke,'19) and Lucy Best (UNC,'19) together with their fellows built up the management team and raised over 20,000 USD for this event. Owing to their efforts and close collaboration, the conference has become a great success.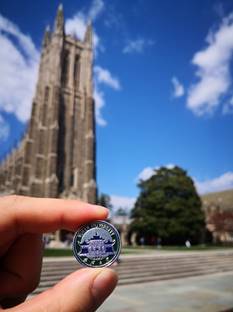 The WHU emblem in front of Duke University Chapel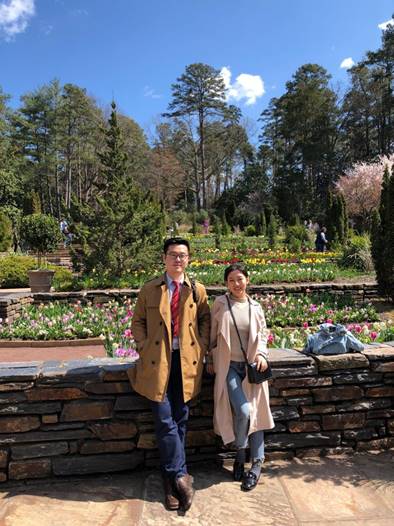 Li Yunzhen (left) and Wei Yena (right) in the Sarah P. Duke Gardens
Duke and Wuhan have engaged in academic partnership since 2011 which has resulted in a number of exchanges of faculty, staff and students. Li's and Wei's visit falls under these and they utilized their trip to visit the Office of DKU Programs on Friday afternoon to send regards to staff on behalf of Wuhan University.
Delegates with Catherine Barzler(middle), Project Coordinator of DKU Programs
Original Article From: https://en.whu.edu.cn/list.jsp?urltype=tree.TreeTempUrl&wbtreeid=1050
Learn More and Apply: Wuhan University